Looking to add a dash of art and culture to your next beach getaway? The First Saturday Ormond Art Walk is the perfect solution! This monthly event is a fun way to get a taste of the region's unique flavor and explore one of the most charming boulevards in the Daytona Beach area — and all while supporting local art! 
WHAT: First Saturday Ormond Art Walk
WHEN: The first Saturday of each month; 5-8 p.m.
WHERE: East and West Granada Boulevard in Ormond Beach
COST: FREE
The event is hosted by the Ormond Beach Mainstreet Arts District, alongside local businesses: Ocean Art Gallery, Frame of Mind, Arts on Granada, Thays Art Gallery & Studio, Lotus Yoga & Fitness, The Neighborhood Shop, and The Pocket Jeweler. Celebrate local culture with works from over 100 artists collectively represented by these galleries. Local fine artists handcraft most of the artwork on display, but national and international artists frequently make appearances here as well.
The mission of the Ormond Art Walk is simple: Revitalize Ormond Beach with beautiful sights and regular engaging events for our neighbors and visitors of all ages. And so far, that mission has proven to be a success! Each first Saturday of the month, art lovers (and those who are simply looking for something fun to do on a Saturday night) hit Granada Boulevard to stroll, see new creations, meet new artists, and enjoy an evening of intellectual and aesthetic stimulation.
You can easily catch the free shuttle bus at any one of these galleries and explore all of these stops! Here are a few of the places you'll be able to visit:
197 E. Granada Boulevard
This gallery is located just steps from the Atlantic Ocean, and the soft ocean breeze will only add to the artistic experience. Ocean Art Gallery proudly showcases the works of 25 unique artists who originate from as close as around the corner and from as far away as the West Coast. Here, you'll find a special emphasis on pieces that depict the relaxing, breathtaking ambiance of this special Florida beach town.
23 W. Granada Boulevard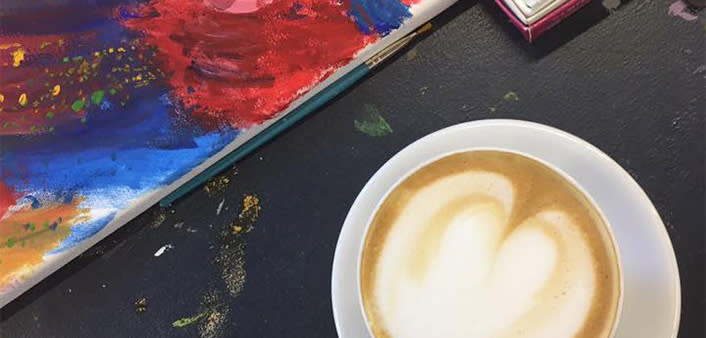 This custom frame shop and art gallery offers a truly one-of-a-kind way to experience art. The gallery's permanent collection includes fine art signed silkscreens from artists around the globe. The main gallery has seen group shows that range from wildlife fundraisers and sci-fi themed events to exhibits displaying works from tattoo artists, zen yogi paintings, sculptures and mixed media. And, Frame of Mind is conveniently connected to Gold Leaf Coffee Co., a locally owned small-batch coffee roasting café.
67 W. Granada Boulevard
At Arts on Granada, you'll be blown away by the range of work that you'll find — and all at approachable prices. Explore the shop's collection of custom greeting cards, original oils, pastels, plein air paintings, sculptures, wood burned art, Gyotaku, pop art, graffiti art, photography, custom glass pieces, jewelry and so much more.
154 W. Granada Boulevard
This fun and funky shop features local artists, ocean and beach themed art, reclaimed hurricane wood, woodworks, live-edge tables, pet portraits, prints and other art-related products.
The owners of these galleries and businesses — and the artists themselves, as they frequently make appearances at the Art Walk — invite you to experience an exhilarating arts revival that positively impacts culture, community and the local economy. It's all right here waiting on you in Ormond Beach. Start planning your trip today. (And be sure to plan it during the first Saturday of the month, if you can!)