True, the sunrises are spectacular. And yes, the beaches are wider and more magnificent than anything you'd ever hope. But the true beauty of Daytona Beach is in its immense possibilities. There's something here that makes people of all ages happy and constantly wanting to return for more. Whether you like to lounge by the water, kick up dust at the racetrack or sip on wine as the sun sets, Daytona Beach has a vacation that's just your style. 
ADVENTURE SEEKERS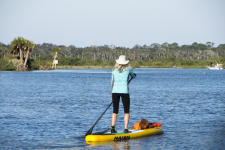 There's truly no limit to the number of exciting activities that await in Daytona Beach. Those who love an adrenaline rush should head to the amusement park rides near the Daytona Beach Pier. Or, rent a paddleboard or kayak and cruise along the waterways for an adventure authentic to the "real" Florida. Thrills come naturally on area nature hikes and bicycle rides (some even right on the beach), and sometimes simply diving into a wave is exactly the rush you need. And of course, no adventure-junkie's trip is complete without taking a spin on the world-famous Daytona International Speedway! Whether you are renting a charter boat for an entire afternoon of fishing, burning rubber on the raceway or tearing up the surf on a board or jet ski, Daytona Beach has endless adventures for you to try.
ART LOVERS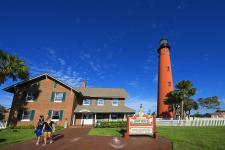 Get a taste of local art and culture at any one of the area's many museums, galleries and live performances. Spend an entire day roaming through the Museum of Arts & Sciences, and don't miss the collections at the Cici and Hyatt Brown Museum of Art created exclusively by Florida artists. Poke around the art galleries located in Ormond Beach, or visit the African American Museum of Arts in DeLand. There are a wide variety of local artists featured in these local museums and galleries, and each will provide a unique perspective on the area.
HISTORY BUFFS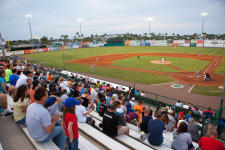 For those who want to take a step back in time, Daytona Beach offers many ways to experience the days and culture of old. Entire days can be spent exploring the area's historical sites, such as the Ponce Inlet Lighthouse, DeLand Naval Air Station Museum and DeBary Hall Historic Site. Walk in the footsteps of a baseball legend at the Jackie Robinson Ballpark and Statue, visit one of the first steam-powered sugar mills at Dummett Sugar Mill Ruins in Ormond Beach, and explore the area's rich and colorful backstory at the Halifax Historical Museum. For those ready to learn more about the past, the Daytona Beach area is a wonderfully generous teacher.
READY TO RELAX-ERS
Often, our favorite vacation memories are formed while doing very little — during the downtime or relaxation time and on the rest days. In Daytona Beach, simply spending time together on the 23 miles of white-sand beaches can be the most perfect way to reunite the family, find tranquility by yourself or reconnect with a significant other. Splash around, go for a stroll together, get a snack at a food truck, or spend hours sprawled out in the sand and clearing your mind of any worries back home. The area also has a diverse food and drink scene — the perfect way to wind down the day and enjoy one another's company with a craft brew or handmade pasta. Check out the full line-up of restaurants here!
Clearly, Daytona Beach is the perfect vacation spot for all ages, experiences and tastes. Whether you're biking on the beach, soaking in the sun while biting into freshly caught seafood or discovering a new favorite water sport, endless fun awaits. Start planning your trip today!