Unofficially dubbed the "psychic capital of the world," Cassadaga Spiritualist Camp is known for its unique historic homes and mysterious beginnings. The camp was founded in 1875 by a traveling medium named George Colby, who was originally from New York. He was well-known at the time for putting people in trances and communicating with spirits from beyond the grave. In those days, his camp served as a kind of spiritual retreat for affluent people and as a place of education about Spiritualism. The belief system is based on the notion that spirits of the dead can and do communicate with the living, and that the afterlife is not stagnant.  
Today, the camp is home to much more than just historic homes, with facilities including a central auditorium, a memorial temple, a bookstore, a healing center, an educational building and a library. And, visitors with a particular interest in the paranormal can stop by the Cassadaga Hotel to dine at the hotel's Italian restaurant and piano bar, Sinatra's Ristorante. Patrons can seek peace and answers at the near-nightly mini-readings or private psychic readings. 
Those who are slightly more hesitant to stay overnight with spirits can opt for a day tour of the camp instead. Explore the unique establishment via a guided tour, and you'll learn about Spiritualism, the belief in the continuity of life and the history of this Victorian-era community. There are also seven parks and meditation gardens throughout the community, allowing visitors to peacefully connect with nature and the energy of the camp. You have a couple of tour options to choose from:
Cassadaga Historic Tour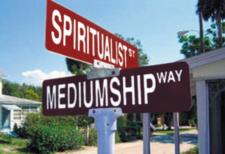 Although the community is over a century old, "spiritually-minded people" still reside here, and the community is still considered very active. Experience the historic and current goings-on of life in Cassadaga with a walking tour that offers a unique perspective of a community over 120 years old. 
The tour focuses on Cassadaga's unusual history, as well as the spirit activity that still takes place in its Victorian-era homes. You'll have access into several historic buildings and gain insight into the world of mediums and Spiritualists. The cost for this tour is $15 per adult, $7.50 per child ages seven to 12, and free for children six or under. Historic Tours occur regularly on Thursdays, Fridays and Saturdays at 2 p.m., and you can book your tour online. 
Cassadaga Encounter the Spirits Night Tour
This guided tour walks you through energy hot spots throughout the Cassadaga Spiritualist Camp. In addition to a short instructional session and energy orb viewings, you'll learn about Spiritualism, mediumship, physical phenomena and spirit energy. Visitors are encouraged to bring a digital camera to try to capture images of Spirit manifestation! Walking shoes are recommended, and you can get your ticket online or in the on-site camp bookstore before it closes at 6 p.m. Tours are regularly held on Saturdays at 7:30 p.m. at $25 for adults and $15 for kids 12 and under. 
Private tours and tour packages are also available; check the Cassadaga Hotel website for more details. Check out Cassadaga Spiritualist Camp on your next visit to the Daytona Beach area — it's sure to be an experience that's out of this world!