I want to travel more. 
I want to relax more.
I want to have more fun. 
Admit it: You've had these thoughts — probably very recently! More likely than not, though, you haven't utilized your time off and made the most of those vacation days. You're not alone. Over the last 40 years, Americans have been taking fewer and fewer days off from work. That doesn't mean Americans need fewer vacations days — and that's why National Plan for Vacation Day was started. 
#PlanForVacation
National Plan for Vacation Day, celebrated on January 28, 2020, is a day meant to encourage Americans to plan their vacation days for the rest of the year. The list of ways to relax and have fun is endless in Daytona Beach, guaranteeing your time off will be well spent. From paddleboarding to biking on the beach, and from shopping to seeing a live performance, a trip to the area leaves you recharged and rejuvenated. And, by planning at the start of the year, you'll have something to really look forward to in 2020! 
Launched by Project: Time Off in 2017, National Plan for Vacation Day exists to encourage people to plan ahead in order to make the most of their year. The group conducted a study, which demonstrated that an average of 55% of American workers report not using all of their days off, and that they left a total of 768 million vacation days unused in 2018 alone — up 9% from 2017. What's more, 236 million
of those days were forfeited completely — equaling $65.5 billion in lost benefits and an individual average of $571 in donated work time.
But why? Common barriers include these thoughts:
"I can't afford a vacation."
Luckily, Daytona Beach has a wide variety of great deals on accommodations for every price range. Better yet, the whole area is known for its great value in dining, attractions and more. The attractive price point, plus early planning, means you can enjoy a wonderful getaway in 2020.
"I'll return to a mountain of work."
Actually, taking time off has consistently been associated with higher productivity and performance. People who take vacation are more likely to have a positive attitude toward work, increased happiness, and improved mental and physical health. And the further in advance you plan, the easier the transition back into work will be.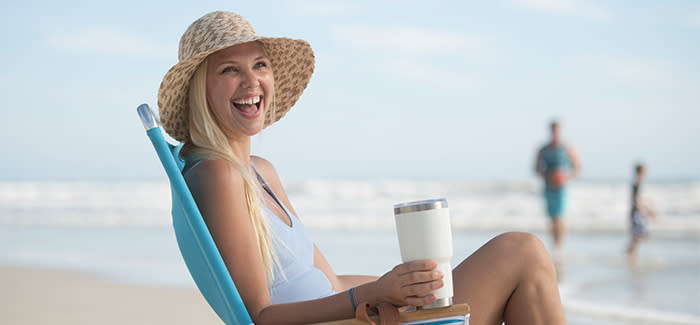 "No one else can do my job while I'm away."
Studies have consistently reported that vacation is essential to strengthening personal relationships, inspiring creative thinking, improving professional performance and promoting better health. Perhaps more importantly, remember that vacations are not a waste of time — they are an investment in you, in your relationships and in your family. Time spent together apart from the daily stresses of appointments, errands, chores and work can be so precious to a family. In sum: It's worth it.
"Getting to my destination takes so much effort."
Fortunately, getting to Daytona Beach is a breeze! If you're coming by car, Daytona Beach is conveniently located where two major interstate highways intersect — I-4 and I-95. This makes our beaches extremely accessible to car travelers, and a straight shot from many directions.
For those traveling by air, Daytona Beach International Airport offers year-round direct flights via Delta and American Airlines. To top it all off, the airport is just a few short miles from the beach — meaning you can go from baggage claim to laying on the beach in no time.
"It's hard to find something the whole family can enjoy."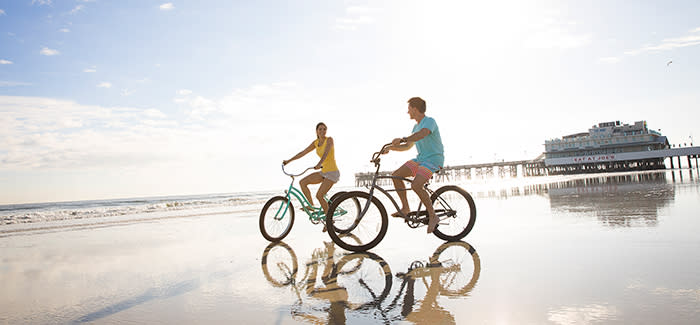 Dad wants to golf, the kids want to try some sort of new adventure, Mom wants to have a moment of peace at a day spa, and Grandma is itching to go shopping. We hear you — it's hard to find a destination that the whole vacation crew can get excited about.
In Daytona Beach, there truly is something for everyone. Spend the morning paddling the waterways, getting a little exercise and sightseeing simultaneously. Or, take a free tour that satisfies your sweet tooth at Angell & Phelps Chocolate Factory. Go for a family bike ride along 23 miles of beaches, savor a waterfront meal together, or get hands-on learning at the Marine Science Center.
From its vibrant arts and culture scene to the myriad of outdoor adventures that await, Daytona Beach is the ideal getaway for any age group. Read this guide to suggested activities for every age group — you're sure to find something that suits everyone your family.
Besides the new discoveries you will make, a vacation in Daytona Beach is a priceless opportunity to reconnect with those who matter most to you. Unplugging from the daily grind and refocusing on what matters is important to maintaining a healthy work-life balance. So join National Plan for Vacation Day on January 28, and declare your vacation days for 2020. Want to get a head start? Use our trip planner to help create the perfect trip today!
Enjoy a look at everything Daytona Beach has to offer and start planning your next trip! Download our free official destination guide or sign up for our e-newsletter.