Most people know that the sunshine is bright in Daytona Beach, but so is its star power! From tribute bands to big stars to community theater productions, this city has no shortage of arts and entertainment. Catch a live musical performance on your next visit to the area at any one of these Daytona Beach live music venues. 
One of the most prestigious and popular venues in the area is the Peabody Auditorium, located right in the heart of Daytona Beach not far from the Main Street Pier. This historic theater is home to the Daytona Beach Symphony Society and welcomes performances ranging from top 40 artists to Broadway classics. The venue has hosted everyone from The Beach Boys to Jerry Seinfeld — be sure to check the schedule online and soak in a show on your next visit to the Daytona Beach area!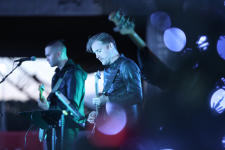 In the newly built ONE DAYTONA complex, you'll find a musical epicenter that music lovers from all over can appreciate. Dubbed Victory Circle, this music venue hosts weekly performances and community entertainment. Plus, it's conveniently located just across the street from Daytona International Speedway in an entertainment district where you can get your fill of shopping and dining before you settle in for live music.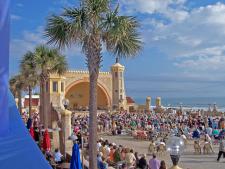 Since 1937, this iconic Daytona Beach venue has delivered thousands of unforgettable evenings. The amphitheater is located in Oceanfront Park at the north end of the Daytona Beach Boardwalk, allowing music lovers to simultaneously enjoy live music and spectacular ocean views. Its convenient location in the middle of the action makes it an easily accessible way to be entertained. Be sure to review the summer line-up of concerts!
Located on Canal Street in the heart of the historic district in New Smyrna Beach, The Hub promotes culture in the community through a range of writing, art, language and wellness classes, as well as a vibrant live music selection. On every second Friday during the spring and summer, you can catch eclectic musical performances and jazz variations live in the gallery of The Hub. The charge is only $5 for non-members, making it an inexpensive way to experience art in the area.
ORMOND BEACH PERFORMING ARTS CENTER
This local venue located just down the road from Daytona Beach in Ormond Beach offers a 650-seat auditorium for children's theater, community theater, touring productions and a professional concert series. Here, you can catch a Beach Boys tribute or sample a taste of Broadway — call (386) 676-3375 to learn more!
Of course, sometimes the best nights are spent relaxing at a restaurant, overlooking the water and enjoying the sounds of a local band. There are numerous Daytona Beach-area beach bars and fine restaurants that provide live music, especially on the weekends. A few local favorites include Ocean Deck, Marina View and The Roof.
From unlimited oceanfront fun to a rich arts and culture scene, there is no end to the fun waiting to be had in Daytona Beach. There's no better way to end a beach day than by catching a dinner and a live performance — so start planning your trip today!