Grab the confetti and cue the song — he put a ring on it! One of the most fun aspects of planning a wedding is the opportunity to share the event with the people who love you most. Many brides choose Daytona Beach for their bachelorette party thanks to its fun nightlife, array of group activity options and, of course, the sunny, expansive beaches. Read on to find out why it could be the perfect destination for your wedding crew and to view a sample bachelorette weekend itinerary.
 
One of the features that makes Daytona Beach so attractive as a gathering spot is that it is so easily accessible no matter where you're coming from. It's an easy and scenic ride for bridesmaids and friends within driving distance, and Daytona Beach International Airport makes air travel super convenient for those coming in from a bit farther away.
Part of planning your bachelorette weekend is considering where you and your friends will temporarily call home. Daytona Beach has a wide variety of offerings and something to suit everyone, so this part won't be too challenging. If you want to wake up in a hotel room with a view of the Atlantic, you can do that (and at a great price!). If a condo with a kitchen makes more sense for your group's long weekend, there are options available for that, too. Or, maybe you and the girls would love a quaint bed and breakfast. Whatever is right for your vacation crowd, Daytona Beach has the accommodations you need to be comfortable on your trip.
Day 1: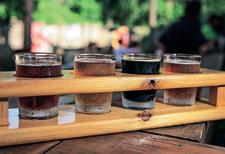 After everyone arrives and settles in, head to the beach to stretch your legs. Whether you fly or drive, strolling together along 23 miles of beaches is just the ticket to shedding the day's travels. Unlike other beach destinations, you won't have to worry about endless umbrellas or crowds getting in your way — your whole crew will have plenty of elbowroom here. After the group is sufficiently stretched out, head back to the room to rest up and get ready for a girls' night guaranteed to create unforgettable memories. 
Depending on your bachelorette party crowd, it may be a good evening to head to a quiet dinner and catch up with one another. From fresh seafood to fine Italian dining, Daytona Beach has a number of delicious restaurants available for whatever strikes your fancy. Keep the conversations flowing at a local wine bar — the perfect setting to celebrate with your best friends!
Day 2: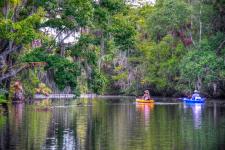 After a leisurely brunch with the girls, consider gearing up to try something new! Go for a group paddle on kayaks, canoes or paddle boards. Or, go sailing or cruising, allowing a professional guide to do the work while you relax. Or, go all out with a luxury yacht charter. If jet skis are more your speed, Daytona Beach offers your group the chance to tear up the surf! 
After a shower and a nap, you and the girls might embark on a one-of-a-kind taste tour of the area on the Daytona Beach Ale Trail. Don't let the fun end there! Daytona Beach has a vibrant nightlife, including variety of dance clubs where you and the girls can cut loose — or cut a rug. Consider hiring Elegant Limousines, a party bus or other fun transportation arrangements for your night on the town.

Day 3: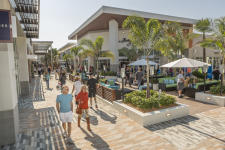 If the group wants to get in a little sightseeing or shopping, there's no end to the attractions, shops and sites you can peruse here. With the Riverfront Shops and local boutiques, the whole crew will be able to shop until they drop in Daytona Beach. Or, go with the girls for a relaxing spa experience. When it comes to the stresses of wedding planning, there's nothing a relaxing massage and a mani/pedi can't fix! You'll hit the road (or the airplane) back home feeling refreshed, excited and ready to take on the big day.
With any group trip, it's always a good idea to offer a wide variety of activity options — and that's what makes Daytona Beach the ideal destination for a bachelorette party. Come and create unforgettable memories that you and the girls won't forget — even after you say, "I do!" So pour a celebratory glass of champagne, start the group chat and start planning your trip today!