Getting the whole family together is a fun, meaningful experience that both kids and adults can treasure year after year. And while planning a family reunion on any scale can be daunting, Daytona Beach offers a great solution for a low-stress getaway with an easy planning process. 
One of the best parts of a family reunion in Daytona Beach is the variety of activity options available for all ages. Even if your group spans multiple generations, the number of things to do in the area makes it easy to plan a reunion that will keep everybody happy!
Another attractive feature of Daytona Beach is that it is so easily accessible, no matter where you're coming from. It's an easy and scenic ride for family members within driving distance, and Daytona Beach International Airport makes air travel super convenient for those coming in from a bit farther away.
Where to stay
There are a wide variety of hotel rooms available, as well as abundant condos. In-suite kitchenettes often make family travel more affordable, and there are several oceanfront options from which to choose. Depending on the size of your group, a vacation rental may be a suitable alternative. Click here to explore accommodations for your family reunion.
What to do
When it comes to fun, the options are endless in Daytona Beach. Send part of the group out for a shopping trip to Tanger Outlets Daytona Beach as others head to the Ponce Inlet Lighthouse to learn a little history, then circle back for fresh seafood together at any number of family-friendly restaurants. The younger kids will especially enjoy the popular children's museum at the Museum of Arts & Sciences, while the over-21 group members can hit the Daytona Beach Ale Trail. There's no end to the discoveries awaiting in Daytona Beach. Consider these fun-filled adventures for your next family reunion:
Lounge a Little
Of course, some of the best memories are created in seemingly insignificant moments. In Daytona Beach, simply spending time together on white-sand beaches can be the most perfect way to reunite the family. Splash around, go for a stroll together, get a snack at a food truck, or spend hours sprawled out in the sand giggling and reliving family stories.
Fish for fun
Grab your poles and head to the Daytona Beach Pier, a popular local fishing spot. There's no cost to fish on this pier, and fishing licenses are not required, making it the perfect activity to pursue on a whim. Other fishing spots include Sunglow Pier, Halifax Harbor Marina and Ames Park Fishing Dock in Ormond Beach, but be advised that some of these spots require small fees and/or licenses.
Explore the Ecosystems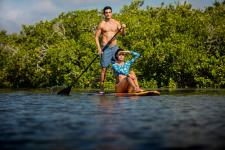 Spend time with nature and each other on a paddleboard or kayak adventure! It's likely you'll get a close-up look at a variety of marine life, including dolphins, birds and even manatees. Paddleboarding and kayaking are eco-friendly ways to explore the immense water systems in the area, get some exercise and spend time together! There are several places you can easily rent equipment, and many tours include basic lessons, so you don't have worry if everyone in your group is new to the sport.
Bicycle on the beach
Go for a cruise along Daytona Beach's iconic 23 miles of wide shoreline. There's plenty of room for your whole family here. In fact, your crew isn't limited to riding on the beach at all. The Daytona Beach area has many parks and outdoor recreation trails that are ideal for accommodating large groups. Can't fit your bike in your suitcase? No problem. Renting a bike is easy in Daytona Beach. 
Make Hands-on Memories
Animal lovers and people of all ages will enjoy the touch tanks, educational demonstrations and sea turtle hospital at the Marine Science Center. It's a fun place to learn about the environment and conservation located in Ponce Inlet.

With the wide array of accommodations and so many excursions and activity options available in Daytona Beach, everyone in your family is sure to be smiling! For a low-stress, high-fun family reunion experience, look no further than Daytona Beach. 
Start planning your group's trip today!