Getting the whole family together is a fun, meaningful experience that both kids and adults can treasure year after year. And while planning a family reunion on any scale can be daunting, Daytona Beach offers a great solution for a low-stress getaway with an easy planning process. 
One of the best parts of a family reunion in Daytona Beach is the variety of activity options available for all ages. Even if your group spans multiple generations, the number of things to do in the area makes it easy to plan a reunion that will keep everybody happy!
Another attractive feature of Daytona Beach is that it is so easily accessible, no matter where you're coming from. It's an easy and scenic ride for family members within driving distance, and Daytona Beach International Airport makes air travel super convenient for those coming in from a bit farther away.
Where to Stay
There are a wide variety of hotel rooms available, as well as abundant condos. In-suite kitchenettes often make family travel more affordable, and there are several oceanfront options from which to choose. Depending on the size of your group, a vacation rental may be a suitable alternative. Click here to explore accommodations for your family reunion.
What to Do
When it comes to fun, the options are endless in Daytona Beach. Send part of the group out for a shopping trip to Tanger Outlets as others head to the Ponce Inlet Lighthouse to learn a little history, then circle back for fresh seafood together at any number of family-friendly restaurants. The younger kids will especially enjoy the popular children's museum at the Museum of Arts & Sciences, while the over-21 group members can hit the Daytona Beach Ale Trail. There's no end to the discoveries awaiting in Daytona Beach. Consider these fun-filled adventures for your next family reunion: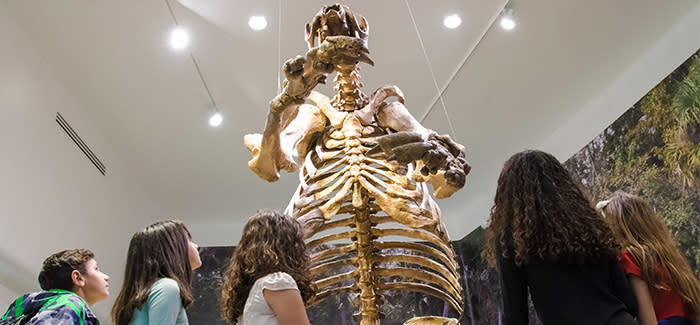 Lounge a Little
Of course, some of the best memories are created in seemingly insignificant moments. In Daytona Beach, simply spending time together on white-sand beaches can be the most perfect way to reunite the family. Splash around, go for a stroll together, get a snack at a food truck, or spend hours sprawled out in the sand giggling and reliving family stories.
Fish for Fun
Grab your poles and head to the Daytona Beach Pier, a popular local fishing spot. There's no cost to fish on this pier, and fishing licenses are not required, making it the perfect activity to pursue on a whim. Other fishing spots include Sunglow Pier, Ponce Inlet and Ames Park Fishing Dock in Ormond Beach, but be advised that some of these spots require small fees and/or licenses.
Explore the Ecosystems
Spend time with nature and each other on a paddleboard or kayak adventure! It's likely you'll get a close-up look at a variety of marine life, including dolphins, birds and even manatees. Paddleboarding and kayaking are eco-friendly ways to explore the immense water systems in the area, get some exercise and spend time together! There are several places you can easily rent equipment, and many tours include basic lessons, so you don't have worry even if everyone in your group is new to the sport.
Bicycle on the Beach
Go for a cruise along Daytona Beach's iconic 23 miles of wide shoreline. There's plenty of room for your whole family here. In fact, your crew isn't limited to riding on the beach at all. The Daytona Beach area has many parks and outdoor recreation trails that are ideal for accommodating large groups. Can't fit your bike in your suitcase? No problem. Renting a bike is easy in Daytona Beach. 
Make Hands-on Memories
Animal lovers and people of all ages will enjoy the touch tanks, educational demonstrations and sea turtle hospital at the Marine Science Center. It's a fun place to learn about the environment and conservation located in Ponce Inlet.
Visit the Museum of Arts & Sciences
From dinosaur exhibits and prehistoric artifacts to a planetarium and an exclusive collection of Floridian-created art, there's something for everyone to enjoy at the Museum of Arts & Sciences. Let the little ones explore the interactive learning exhibits of the Children's Museum, or spends hours perusing the renowned Cuban, African and Chinese art collections, and the Root Family Museum of Coca-Cola memorabilia and Americana. This Smithsonian-affiliated museum will not disappoint. 
Stroll Along the Boardwalk
At the world-famous Daytona Beach Boardwalk, your family will find everything from street performers to arcade games to educational plaques. Centrally located on Ocean Avenue in Daytona Beach, the Boardwalk is the perfect place to bring the whole crew to relax and enjoy the beachside breeze for an evening. And if you're here between May and September, you can even catch a live concert on Friday and Saturday nights at the Daytona Beach Bandshell!
Take a Self-Guided History Tour
If you have any history buffs in your family, then opt for a self-guided driving tour of Daytona Beach's top historic sites. It's an ideal way to keep the kids engaged in an educational vacation without things ever getting too stiff or boring. From haunted houses to legendary stock car drivers, Daytona Beach features a myriad of rich and colorful stories. So load the car down with snacks, water bottles and your family members, and come experience all the historic sites in person!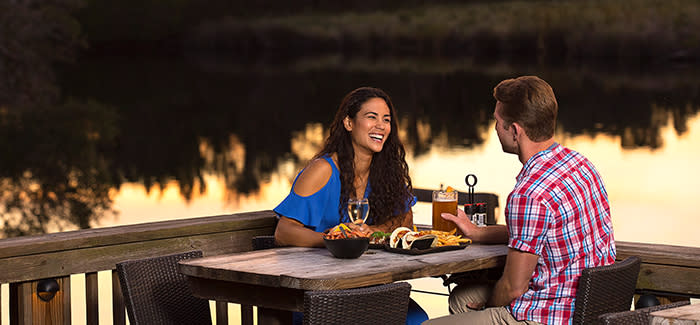 Where to Eat
ONE DAYTONA
With entertainment, dining and shopping all within walking distance, spend the good part of a day can be spent exploring ONE DAYTONA. Located right across the street from Daytona International Speedway, this hub of family fun offers a number of options for hungry vacationers. The best part is that if you have picky eaters, ONE DAYTONA makes it convenient to grab a quick burger at one spot while the other half of the group eats pizza just a few steps away. Then, everyone can easily circle back together for live entertainment in front of the fountains, or perhaps some ice cream to top off the evening.
Laid-Back, Waterfront Dining
If you have a big group with varied tastes, one thing everyone can usually agree on is a breathtaking waterfront view. Check out some of the top riverfront dining options in Daytona Beach! At an eatery like Our Deck Down Under, you'll be able to savor fresh local seafood as the sun sets over the river. Or perhaps try Pat's Riverfront Café, where breakfast is served all day and everyone can find something they'll love — even dogs are welcomed on the patio!
Pack a Picnic for Lighthouse Point Park
When you have a large vacation crew, sometimes, the most relaxing thing to do is find a venue where everyone can spread out and the kids are free to roam. Enter: Lighthouse Point Park. This sprawling park at the northern tip of Ponce Inlet features a number of activities that are fun for all ages. You can go fishing off the jetty, cool off with a swim, walk the nature trails, or make your way to the observation deck and tower.
And, you can easily reserve a pavilion for grilling out and gathering together at Lighthouse Point Park. The park features four large pavilions, each equipped with either four or six tables. Lighthouse Point Park offers daily admission from sunrise to sunset for $10 per vehicle, or you can get an annual inlet parks pass for $20 — a price that's well worth it for the natural beauty that awaits inside.
With the wide array of accommodations and so many excursions and activity options available in Daytona Beach, everyone in your family is sure to be smiling! For a low-stress, high-fun family reunion experience, look no further than Daytona Beach. 

Start planning your group's trip today!