Daytona Beach is known far and wide for its 23 miles of expansive beaches, but it also offers magnificent waterfront views on the side opposite the beach accesses. Bordering the peninsula's western side, the Halifax River is one of the area's best defining features — one brimming with wildlife, adventures and incredible sights. Whether you're looking for a casual meal as the sun sets or a more formal sit-down meal with the whole family, Daytona Beach offers a variety of options suited to any palate.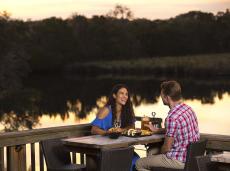 Get your Southern seafood fix at Aunt Catfish's on the River! Located on the water in Port Orange, this family-owned and -operated restaurant serves up fresh meals and vows to treat you like family while you're there. Savor thick and meaty clam chowder, fresh fish and local seafood prepared with a Southern twist, and don't miss the house specialty: homemade cinnamon rolls! Go for "Blue Jean Sunday Brunch," a lunch on the water, or dinner with a view.
LOCATION: 4009 Halifax Drive, Port Orange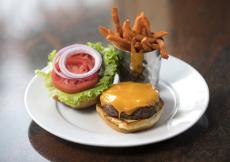 Sometimes called "Daytona Beach's best-kept secret," this hidden treasure has been serving Southern comfort food to the area for over 30 years. Known for outstanding all-day breakfasts and daily lunch specials, this classic restaurant is located at 7 Seas Marina on the Halifax River. If you're dining on the café's outdoor seating deck, feel free to bring along your four-legged friend. Don't wait to stop by — the restaurant closes at 2 p.m. daily.
LOCATION: 3300 South Peninsula Drive, Port Orange
3.) Sunsetters Riverfront Bar & Grill
As Daytona Beach's only riverfront bar and grill located on the beach side of the bridge, Sunsetters is a popular place to grab a bite to eat and watch the sun go down over the water. Live music, covered deck seating and Caribbean-style entrees all contribute to the restaurant's casual vibe. You can savor the flavors of Sunsetters at lunch, dinner and even for Sunday brunch. Or, grab a snack and sip on a selection of craft beer as you watch the sun melt into the Halifax River.
LOCATION: 115 Main Street, Daytona Beach
Venture "down under" the Dunlawton Bridge, and you'll be rewarded with delectable dishes, friendly service and a memorable view. This locals' favorite is widely known in the area for its food, fun and family-friendly atmosphere. The homemade jambalaya, in-house smoked ribs and burgers are made even better by the endless waterfront view. Come to Our Deck Down Under for casual dining on the water — you won't be disappointed. 
LOCATION: 78 Dunlawton Avenue, Port Orange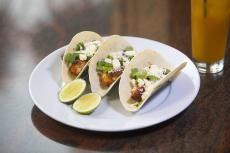 This riverfront restaurant has been serving up delicious food and breathtaking views for over five decades. Come to Chart House to enjoy a wide variety of fresh seafood, seasonal specials and creative twists on classic dishes. Top off your succulent prime rib or Snapper Hemingway with a hot chocolate lava cake! Reservations are encouraged, but not required. 
LOCATION: 1100 Marina Point Drive, Daytona Beach
From fresh local seafood to house-made sauces and signature desserts, Daytona Beach serves up a wide array of dining options on the Halifax River. Whether you're kick-starting a day of paddleboard exploring, replenishing empty bellies after a day on the beach or refueling after a major shopping trip, you'll find something here everyone in your family will love.