Visitors escaping to Daytona Beach this spring will discover plenty of activities to enjoy such as area beaches, Florida state parks, museums, and fine dining. They'll also discover a robust calendar of events that they'll want to experience first-hand. From one of the most popular motorcycle rallies in the world to Florida's biggest rock festival, the opportunities for fun are endless. Consider these five events when making your plans to visit Daytona Beach this spring: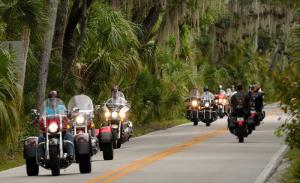 82nd Daytona Beach Bike Week
The 82nd Daytona Beach Bike Week, regarded as one of the best-known motorcycle rallies in the world, is scheduled for March 3-12. Motorcycle enthusiasts are invited to enjoy spring riding in the Daytona Beach area during this 10-day rally which takes place from historic Main Street to Midtown in Daytona Beach and Terry Morse's Destination Daytona and the U.S. 1 corridor in Ormond Beach. The celebration continues with races at Daytona International Speedway, and other event locations throughout Volusia County. During the rally, be sure to make time to cruise along scenic A1A Highway through the best of old Florida while enjoying the sights and sounds of the Ormond Beach Scenic Loop. View official information.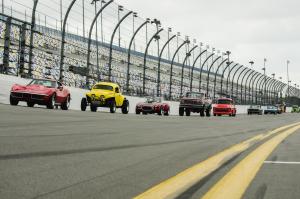 Spring Daytona Turkey Run
The 33rd Spring Daytona Turkey Run on March 24-26 at Daytona International Speedway will bring together thousands of classic cars for show and sale, along with a massive swap meet, arts and crafts on Artisan Alley, food, the Hops & Hoods Beer Festival and so much more! View more information.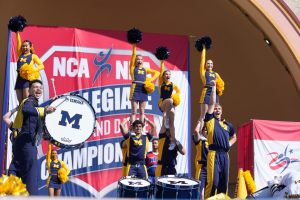 NCA & NDA Collegiate Cheer and Dance Championships
For the 27th year, Varsity Spirit's National Cheerleaders Association (NCA) and National Dance Alliance (NDA) Collegiate National Championship returns to Daytona Beach on April 3-9. In competitions based at the Daytona Beach Bandshell and the Ocean Center, the nation's top universities will be vying for the title of NCA & NDA Collegiate National Champion in the single largest collegiate cheer and dance event in the world.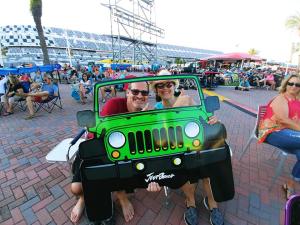 Jeep Beach
Starting with the Jeep Beach 5K Fun Run and ending with the World's Most Famous Beach parade, you'll want to make sure to experience all that Jeep Beach has to offer April 23-30. This county-wide event, which marks its 20th anniversary in 2023, celebrates the passion for the off-road vehicle with family-friendly fun for Jeep owners.
Jeep Beach is one of the largest Jeep-only events in the country and attracts more than 200,000 visitors and 25,000 Jeeps to the Daytona Beach area. View more information.

Welcome to Rockville
Daytona International Speedway, "The World Center of Racing," will once again transform into the "World Center of Entertainment" with Welcome to Rockville on May 18-21.
Gear up for a massive lineup of legendary rock bands with headliners Tool, Slipknot, Avenged Sevenfold and Pantera, plus the Deftones, Rob Zombie, Godsmack, Evanescence, Incubus, Queens of the Stone Age, Alice Cooper, The Mars Volta, Puscifer, I Prevail, Chevelle, Coheed & Cambria, Hardy and Trivium. Jose "Metal Ambassador" Mangin will host the event with on-stage appearances and fan meet and greets.
Welcome to Rockville, which will feature more than 90 musical acts in 2023, is Florida's biggest rock festival and brought together 150,000 concertgoers to the speedway in 2022. Find more information.
Enjoy a look at everything Daytona Beach has to offer this spring and start planning your next trip today. Download our free official destination guide or sign up for our e-newsletter.