Committed to a healthier lifestyle for 2020? Determined to stick to your New Year's resolutions this year? There are lots of fun ways to stay fit on your next trip to Daytona Beach — literally on the beach! With a 500-foot-wide sandy space to serve as your gym, fitness has never looked more fun. Follow these tips on your next vacation to be even more energized — and probably ready to relax on a beach towel afterward! 
1. Run on the beach
Get your dose of cardio workout in with a morning jog in the sand. The hard-packed sand on Daytona Beach makes for great running, especially near the shoreline at low tide. Just be aware of any slopes or tidal pools, which can cause strain in the knees and ankles.
2. Build a sandcastle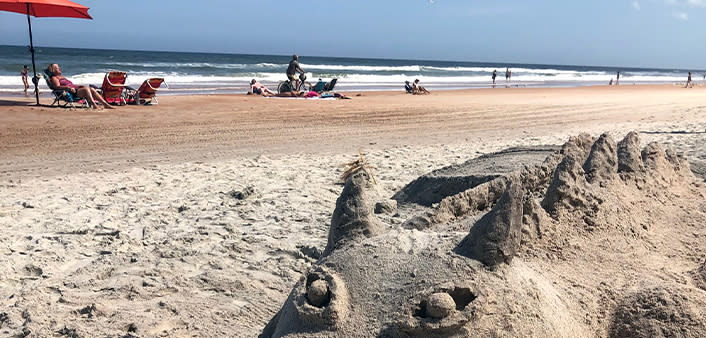 That's right, take it back to your childhood days and scoop up armful after armful of sand. Is there a more fun way to work your biceps and triceps?
3. Go swimming
Channel your inner Michael Phelps and get those arms and legs moving! You may not win any Olympic medals, but you will win a healthy heart and stronger back muscles. 
4. Bike on the beach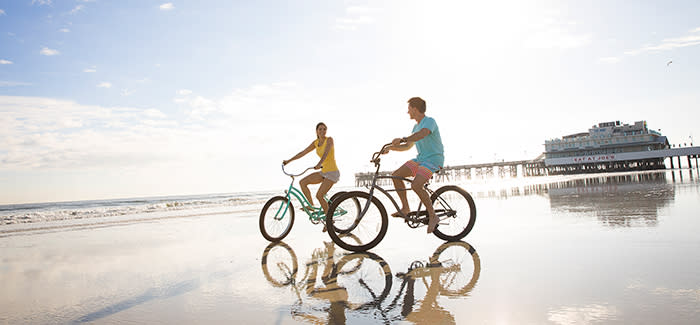 Daytona Beach offers several places to rent bicycles. The best part? The beaches are famously wide and expansive, meaning at low tide you have plenty of room to ride without worrying about running into towels, umbrellas or other beachgoers. 
5. Walk in water
Whether you are ankle or knee deep, water provides a wonderful resistance that will require your body to use different muscles than when you are on land. The deeper you go to walk, the more resistance you'll get.
6. Throw a frisbee
Who says exercise has to be a chore? Grab the kids and toss around a Frisbee for awhile — the reaching, running and tossing offer all kinds of benefits for your body.
7. Take a hike
Walking is a great exercise for those looking for low-impact, aerobic activity. Walk and talk with your family on our plentiful network of trails, take a pail to collect seashells, or use the early hours for a peaceful walk in solitude.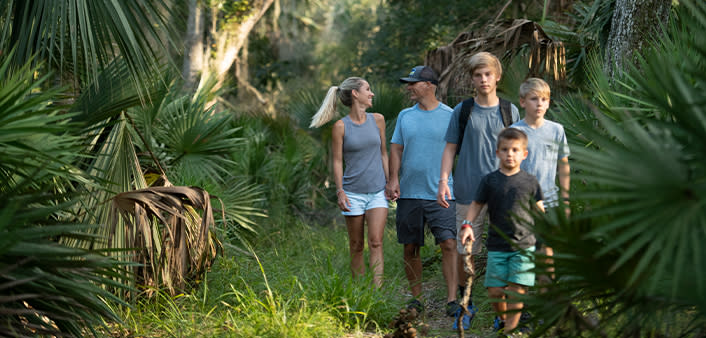 8. Stretch it out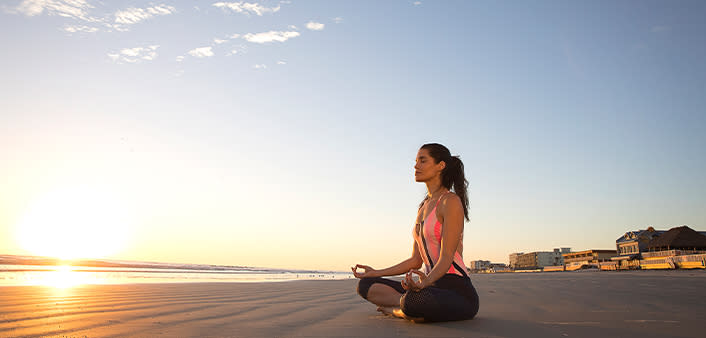 Yoga is a relaxing yet strengthening form of exercise, and Daytona Beach is like a wide-open studio awaiting you. Spread out a big beach towel, focus on your breathing, and enjoy the perfect ambience for yoga practice. 
9. Stay hydrated
In all of your various beach activities, don't forget to drink plenty of water throughout the day. Staying hydrated is critical for overall health, especially if you spend a lot of time in the salty water and air!
Whether you're getting your blood pumping with a morning run, kayaking on the waterways or dining on fresh, local seafood, Daytona Beach is full of ways to have fun and stay fit.
Start planning your trip today! Download our free official destination guide or sign up for our e-newsletter.