PONCE INLET -- Just a few short miles south of Daytona Beach, at the southernmost tip of the peninsula, is the off-the-beaten-path area of Ponce Inlet.  From the Ponce Inlet Lighthouse and Marine Science Center to parks and echo tours, the things to do in this hidden corner of the Daytona Beach area are endless.
Here's a look at nine activities that you need to put on your must-do list when visiting Ponce Inlet.

The Beach
Stretching nearly four miles to the mouth of the inlet, it's hard to resist the relaxing waters, white sands, and spectacular sunrises and sunsets found along Ponce Inlet's beach. Soak in the relaxing atmosphere of this hidden corner of the World's Most Famous Beach as you watch the waves roll in and bask in the bright Florida sun.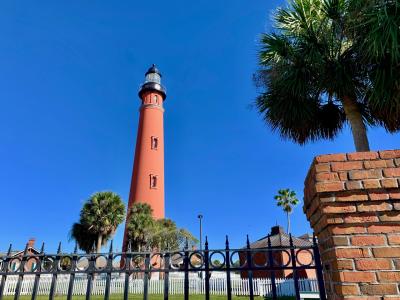 Enjoy spectacular, 360-degree views of the Atlantic Ocean, the Intracoastal Waterway and more! Completed in 1887, the Ponce Inlet Lighthouse is a fascinating piece of Florida history. At 175 feet, it towers above others as the tallest lighthouse in Florida.  A visit to the lighthouse, rain, or shine, is always a cherished experience. Along with a historic display that touts Ponce Inlet's place in the early days of automobile and motorcycle racing on the nearby beach, you will encounter special historical exhibits and events.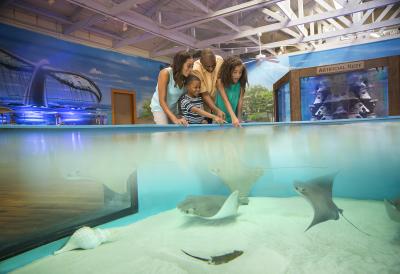 Discover and learn about the area's rich marine life, the inhabitants and ecosystems that make this area unique at the Marine Science Center. Through innovative learning experiences, visitors can view seabirds and sea turtles in rehabilitation, get hands-on in a teaching lab, and explore exhibit galleries and a nature trail that illustrate the story of marine life in Volusia County. Feed stingrays, enjoy the "Raptors Live" programs and learn about wildlife. Open six days a week, check website for current operating days and times, as well as the schedule of live animal presentations.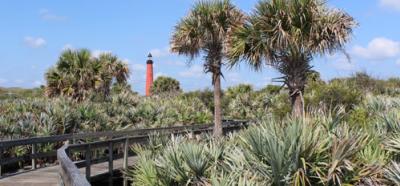 At this pet-friendly park, your whole family can explore some of Daytona Beach's most wonderful natural elements. At Lighthouse Point Park, roam along the beach, run free in the open space, or chase after birds — with over 50 acres, there's plenty of room for all to explore.  There's even an observation deck (for those with two legs, not four!).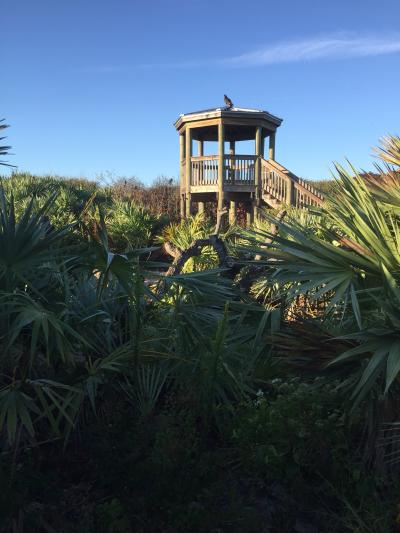 Ponce Preserve is the Inlet's largest park, with approximately 41 acres stretching from the Atlantic Ocean to the Halifax River. Sitting at the heart of the park is the Green Mound State Archaeological Site, an ancient Indian midden, as well as an ancient live oak tree estimated to be more than 350 years old. While there is plenty to explore in the park, you can venture beyond its boundaries via the kayak and canoe launch. Note that unlike some of the other places listed here, no rentals are available at Ponce Preserve — you must bring your own or rent from a local company.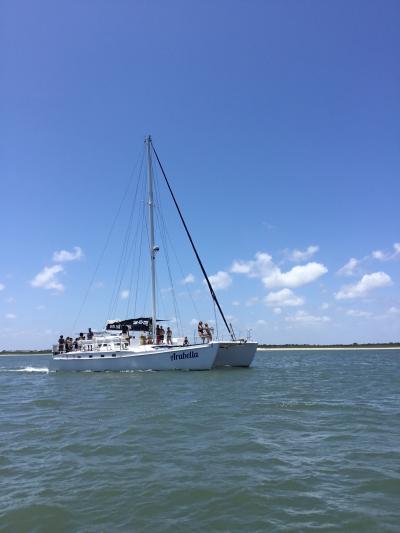 With Funcat Sailing, enjoy the natural beauty of one of Florida's most magnificent inlets, as well as sightings of dolphins and wildlife. Cruise around the beautiful waterways of Ponce Inlet aboard the 500-foot catamaran Arabella.
With different sailing packages available, sit back and relax as you take in the scenic views and tranquil breezes along the calm waterways.

Ponce Inlet Watersports has everything you need for great family fun. Guided fishing excursions, dolphin and manatee boat tours, sailing trips, kayak, and stand-up paddle board rentals and more. Plus, you can book your Daytona Beach Parasailing experience onsite, too.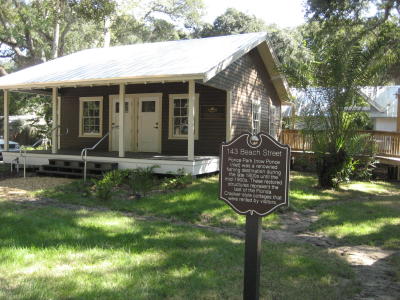 The Ponce Inlet Historical Museum contains two historic Florida Cracker-style cottages that have been restored to their original layout. The Museum is dedicated to education through the preservation and dissemination of the history and cultural heritage of the Town of Ponce Inlet.

Restaurants
You'll have plenty of excellent dining options to select from during a visit to Ponce Inlet:
Down the Hatch offers Florida dining overlooking the scenic waters of Ponce Inlet. The menu includes soups, salads, and sandwiches, along with seafood, steak, chicken, pork, and pasta dinners. Dine inside or outside on the deck overlooking the Intracoastal Waterway.
Off the Hook at Inlet Harbor Raw Bar and Grill
Off the Hook at Inlet Harbor Raw Bar and Grill is a tropical and casual place to enjoy entertainment on the river, along with great food and spirits, all in a unique family setting. This waterfront restaurant features spectacular panoramic scenic views of dolphins, manatees, sea turtles, fish, and birds. 
Racing's North Turn Beach Bar and Grille
Voted Top 10 Best Florida Beach Bar (9 years in a row) and Historic Landmark, Racing's North Turn Beach Bar and Grille sits on the exact location where racing history began in Daytona Beach. Enjoy sandwiches, wraps, steaks, seafood, and pasta with a nice cold cocktail while enjoying some fantastic racing memorabilia. Relax on the expansive deck overlooking the beach. Full-service bar and live entertainment seven nights a week.
Ready to start planning your family's coastal getaway to Daytona Beach? Check out the great accommodations available in the area now, and start planning an amazing vacation today! We'll be looking forward to seeing you and your family in Daytona Beach soon!