Daytona Beach may be best known for its 23 miles of white-sand beaches and endless waterfront adventures, but it certainly offers its fair share of indoor activities, too. The Florida sunshine prevails most days of the year, but spring showers have been known to happen. When they do, fear not — your family still has lots of entertainment options. Walk through a variety of local art galleries, go shopping or soak in a show at any of the area's many cinemas and performance venues. So, the next time the weatherman isn't on your side or when your family craves some A/C, head to any one of these fun indoor adventures!
Indulge your artistic side

Spend hours perusing Floridian and international art exhibits at the Museum of Arts & Sciences (MOAS), a Smithsonian-affiliated museum and Central Florida's primary art, science and history museum. Situated on 90 acres, MOAS is the proud home to nationally recognized artworks and includes a Napoleonic collection, an American art collection, a Coca-Cola historical collection and the Cuban Foundation Museum collection. In addition to the fine and folk art collections, MOAS also features a state-of-the-art planetarium and a popular children's museum. Of course, if you're feeling crafty, you can tap your inner artist and make a one-of-a-kind souvenir out of painted pottery at Whim Wham Art Studio.
Shop and stroll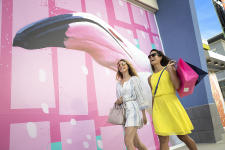 Daytona Beach offers a variety of places where you can discover new treasures. Head to the Riverfront Shops of Daytona Beach in historic downtown between Bay Street and Orange Avenue to enjoy perusing dozens of locally-owned stores. Or, weather permitting, go to Tanger Outlets Daytona for a little bit of indoor/outdoor shopping and snacking. And, if you need to be completely indoors, Volusia Mall is a great place to spend a few hours — you never know what deals you'll come across!
Pro tip: Before leaving home, only pack your suitcase about halfway to leave room for your awesome new finds!
Jump for joy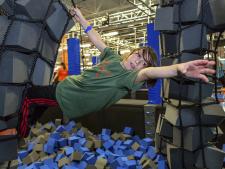 When the weather outside is drizzly, head to Sky Zone Trampoline Park— your family will be so excited they'll be bouncing off the walls! This trampoline park features fun for all ages with an array of foam pits, trampolines, obstacle courses and more. When you're looking for a way to expend some energy and make memories, Sky Zone has you covered. General admission starts at just $14.99 for an hour of next-level fun! Another good place to jump for joy is Hangar 15 Extreme Air Sports, where you and the kids can catch major air on over 16,000 square feet of tramps!
Recharge your mind and body
There's no better excuse than a rainy day to slip inside a spa for a little bit of pampering! From organic manicures to full-body massages, there are several locations where you can relax and renew in Daytona Beach. A few of the available options include Remedy Spa at Pelican Bay in Daytona Beach, The Spa at Riverview in New Smyrna Beach, Daytona Beach Spa off East International Speedway Boulevard and The Shores Resort & Spa in Daytona Beach Shores. Unwind your mind and your body, and you'll walk away refreshed and ready for another adventure!
So whether you need a break from the sunshine or are forced inside by a rainy day, Daytona Beach offers a list of fun inside activities as long and wide as its beaches. In fact, you will probably want to hit these hot spots no matter what the weather looks like — start planning your trip today!