The sun is shining in Daytona Beach, and that can make for the most perfect summer day. While sunshine and blue skies are two of the best elements and biggest draws of the area, it's a good idea to have a few activities in mind that'll keep your vacation crew from getting overheated. When you're out in the sun, you should wear a hat, stay hydrated and wear sunscreen to stay protected. 
Those who like to take a break from the midday heat will find no shortage of options in Daytona Beach! From water parks to indoor obstacle courses to hands-on marine learning, there are many ways to keep the fun going without enduring the heat. Here are four ideas to get you started: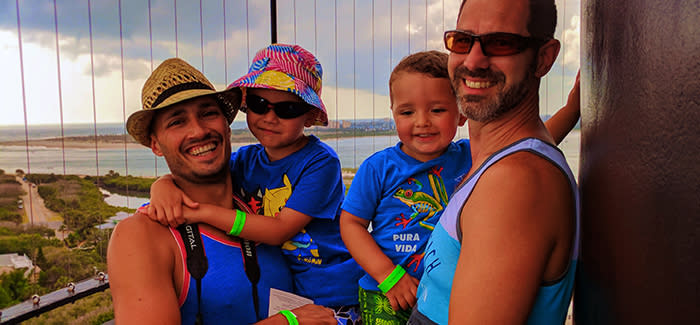 Although you'll have to climb 203 steps closer to the sun, the views from the top of the Ponce Inlet Lighthouse offer a whole new perspective on vacation. At 175 feet tall, it's the tallest working lighthouse in the state of Florida and it features a light station that's listed as a National Historic Landmark. Once you climb the lighthouse stairs, you're rewarded by 360-degree panoramic views of the Atlantic Ocean, the Halifax River and the quaint town of Ponce Inlet. High above the treetops, you'll even get a bit of that cooling breeze coming off of the water.
Make a Splash on the Waterway
Rent a jet ski and tear up the water on the Atlantic Ocean, the Intracoastal Waterway or in one of the many backwater creeks. There are several local jet ski rental shops that can help outfit the occasion and provide all you'll need for your excursion.  From life jackets to safety orientation, these rental shops will set you up for a successful day of adventure! If you're into adrenaline rushes with a splash of cool water, this is the ideal activity for you.
Catch Air at an Indoor Trampoline Park
When you want to beat the heat, head to Hangar 15  Extreme Air Sports for some indoor fun that'll have your family bouncing off the walls. Jumpers will enjoy foam pits, trampolines, obstacle courses and more. When you're looking for a way to expend some energy and make memories, Hangar 15 has you covered. General admission starts at just $14 for an hour of air-conditioned fun! 
Create a Light Personal Breeze With a Bike Ride on the Beach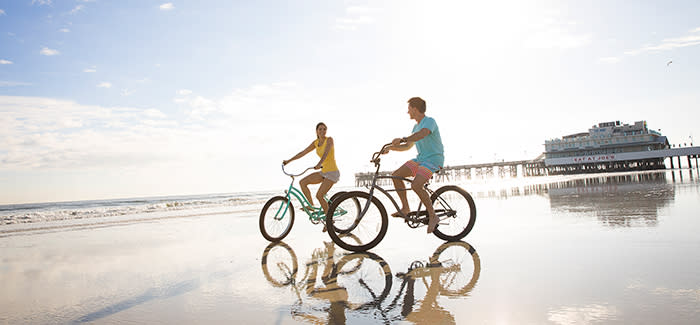 For a little self-made A/C, all you need are two wheels and 23 miles of hard-packed, white-sand beaches! Daytona Beach's famously wide beaches provide plenty of elbow room to ride bikes right on the beach. There are tons of local shops that rent out bicycles by the day or week — and many even deliver them right to your hotel! Biking on the beach is a great way to spend time together while stretching your legs and getting a little bit of vacation exercise. And besides, you simply can't beat the views.
From going for a dip in the ocean to savoring a sunset dinner overlooking the Halifax River, there are so many ways to stay cool this summer in Daytona Beach.
Soak in as much sunshine as you'd like on your next summer getaway to Daytona Beach, and enjoy endless water-filled activities, museums, historical sites and so much more. Start planning your trip today!