With a variety of parks and trails, innumerable places to catch a fish, and some of the best kayaking spots in the nation, Daytona Beach offers endless ways to get out and enjoy a new adventure. Check out six of the best ways to experience outdoors in Daytona Beach!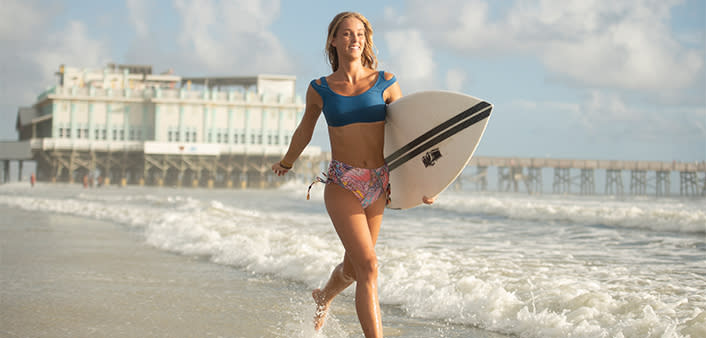 Catch a wave.
For an authentically beach-y outdoor adventure, try surfing in Daytona Beach! Discover that perfect mix of peaceful zen and adrenaline along our shoreline. Daytona Beach, with its approachable wave size and 23 miles of beaches, is a great place for beginning surfers to get started. And, there are plenty of local surf shops that rent boards and offer lessons. Read up on all you need to know about surfing in Daytona Beach, and then hit the water!
Cruise in a kayak.
One of the best, most distinct features of our area is that Daytona Beach is surrounded by water — from inlets to creeks to the ocean. A great way to immerse yourself in the outdoor culture here and experience different bodies of water is to float along them! It's easy to rent a kayak in the area, as many of the parks rent them right on-site. And, if not, there are several outfitters in the area that have everything you need for a day on the water. Explore the waterways, get some blood pumping, and get to know Florida's wild side at any one of the top eight places to kayak in the Daytona Beach area! The list includes gems like Blue Spring State Park, which hosts a crystal-clear, 73-degree natural spring year-round!

Toss a line.
Whether you're standing on the shore, dropping a line off an area pier or winding your way through backwater creeks, there's endless fun to be had when fishing in Daytona Beach. Navigating unfamiliar waters might not provide the most fruitful fishing trip, so hiring a local guide to take you and your crew out can make all the difference. Find a local inshore guide or offshore charter, and you'll have much more luck finding the area's best-kept-secret fishing spots. Or, if you want to keep things simple and accessible, head to one of the area's five top places to go pier fishing. In fact, Sunglow Pier makes it easy to roll up on a whim and rent a rod and bait. Even if you don't get any nibbles, it's a relaxing way to enjoy the warm Florida sunshine.

Ride bikes.
Whether you're cruising along 23 miles of wide, hard-packed beaches or winding your way through one of Daytona Beach's top bike trails, you're sure to find outstanding scenery for your bike ride here. Soak in the sunshine, get a good look at the area's wildlife, and cover a lot of sights in one swoop — all while enjoying a fun workout! Need to rent a bicycle? There are several shops in Daytona Beach that have you covered.  And, for detailed bicycling routes in Volusia County, check out the Volusia County Parks & Trails App — available free for iOS or Android users! Find helpful maps, suggested routes, phone numbers you'll need and a number of videos to inspire your trip!
… Or ride a horse.
Swap your wheels for a set of hooves! A horseback ride with Equestrian Adventures of Florida comes highly recommended for riders of all experience levels and is met with rave reviews from all who try it. It's an excellent way to experience the outdoors in a whole new way. Based out of Ormond Beach, the company's owner and operator has a passion and love for animals drives her work every day. With Jennifer's guidance and the area's natural wonder, you are sure to have a one-of-a-kind vacation adventure. Choose from a beach tour and trot along the shoreline; or, go for a trail ride and see one of the area's many exquisitely scenic trails. Fit for guests ranging from first-time riders to families looking to make cherished memories to couples seeking a romantic outing for two, a horseback ride in Daytona Beach is just the ticket.
Go bird watching.
Bird watching is a beloved pastime around here — people flock to Daytona Beach from all over the world to slow down and unplug, bust out the binoculars and see some wonderful winged friends. The greater Daytona Beach area is home to a number of "specialty birds," including the wood stork, bald eagle, clapper rail, American oystercatcher, Florida scrub jay, magnificent frigate bird, reddish egret, roseate spoonbill, swallow-tailed kite, painted bunting, piping plover, peregrine falcon, American avocet and so many more! There are a number of outstanding locations available to bird-watchers up and down our coastline, such as Bulow Creek State Park, the paths at Turtle Mound and Ponce Preserve. View the full lineup of top places to bird-watch in Daytona Beach!
Whether you're getting hooked on a new adventure or simply relishing the salty air, Daytona Beach offers endless fun for all ages and experience levels. Embark on a horseback excursion, go for a peaceful solo hike, or bring the kids for their first fishing experience — Daytona Beach is ready and waiting for you. Start planning your trip today!