The calendars will soon flip from 2017 to 2018, and your Facebook feed will be flooded with friends' declarations of "new year, new me!" Indeed, the first day of a new year offers us a clean slate — a new chance to become the best version of ourselves. What does that look like for you? Head to Daytona Beach and try any one of the below suggestions in order to refresh, recharge and renew for the year ahead. 
1.) Unwind your mind
Our lives move at a whirlwind pace that's only amplified and made more chaotic by the constant presence of TV, social media and those small rectangles that seem to be glued to our hands — smartphones. Step one of any truly relaxing vacation is to peel yourself away from constant communication with the world and take a moment to simply be. 
You don't have to meditate, but just sitting in the silence and focusing on your breathing for a few minutes can be wonderfully restorative. Better yet, commit to an hour of "unplugged" time. Unplug your phone, turn off your TV, put away the podcasts and the radio. Sit on the beach or on your bed and put away all electronic distractions — that way all you have to worry about is breathing in and breathing out. This is a great tip to take with you even after your vacation has ended. Unplug every day, even if only for a half-hour — it's a minor time commitment with major impact.
2.) Explore with intention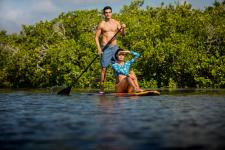 Exercise is more fun with a view, and there's no end to the fun activities available in Daytona Beach! Rent a bike and ride directly on miles of the hard-packed, white-sand beaches. Or, head to one of the area's many hiking and biking trails — an ideal way to exercise and sightsee at the same time. 
Get your blood pumping with a morning run on the beach — the view of the sunrise cresting the Atlantic Ocean will give you an extra burst of motivation! If walking is more your speed, that works, too — the important thing is that you get moving. Or, exercise as you experience the area's waterways; paddleboarding and kayaking offer an active and scenic approach to area exploration. 
3.) Eat mindfully
Food is the fuel your body needs, and filling it up with fresh, whole foods is critical to a healthy lifestyle. Allow yourself to indulge in a treat — especially during a vacation — and maintain moderation throughout the year. During your stay in the Daytona Beach area, eating healthy doesn't have to be totally tasteless! Opt for delicious broiled or baked fresh seafood instead of fried, trade the starchy side dishes for grilled veggies, and swing by one of these places for a health-filled meal:
Kale Cafe: Grab a papaya-chia smoothie, a "Mean Green" juice or an organic veggie burger from this specialty juice bar and vegan cuisine hot spot — now available at two locations!
ADDRESS: 116 North Beach Street, Daytona Beach and 1812 Dunlawton Avenue, Port Orange
Dancing Avocado Kitchen: Savor house-made hummus dip, a seasonal salad or a soup that will warm your soul — you can't go wrong with any of the fresh choices at this downtown Daytona Beach restaurant. 
ADDRESS: 110 South Beach Street, Daytona Beach
4.) Soak in a spa day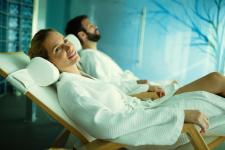 Beyond the physical, make 2018 about transforming your mental and emotional health, too. One way to start? Treat yourself to a spa experience and feel your troubles melt away. A day of tranquility and rejuvenation awaits, and it's full of specialty massages, facials, body wraps, scrubs and pedicures.
The Daytona Beach area has a wide variety of spa offerings ranging from resort-style spas to individually-owned operations. Just a sampling of the available options include Remedy Spa at Pelican Bay in Daytona Beach, The Spa at Riverview in New Smyrna Beach, Daytona Beach Spa off East International Speedway Boulevard and The Shores Resort & Spa in Daytona Beach Shores.
Whether lounging poolside or doing a little retail therapy, you can find an endless list of ways to relax and have fun in Daytona Beach. Plan your trip today, and you'll be revitalized and ready for whatever 2018 has in store.