Mocktails are having a moment — and it doesn't look like this trend will end any time soon! These non-alcoholic beverages have gained popularity recently, and with a good reason: They are delicious, refreshing and a healthy alternative to alcoholic drinks. Many bars and restaurants have caught on and now offer specific mocktail menus. 
A "virgin" piña colada by the pool sometimes hits the spot like nothing else! For an even lighter option, consider a mocktail made with some variation of sparkling water, fresh fruit, honey, lemon juice and fresh herbs.
Custom Blends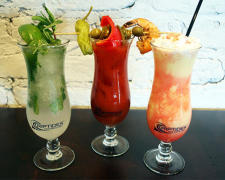 Not sure what to ask your server for? If a bar or restaurant doesn't offer a mocktail menu of its own, here are a few relatively standard safe bets that the bartender will likely whip up for you, and how to order them:
Pineapple Punch
What to ask for: Pineapple juice, splash of cranberry juice, club soda and an orange wedge.
Blueberry Lemonade
What to ask for: Muddled blueberries, lime juice and lemonade. Feel free to customize this with your favorite fruit, or ask your server what fresh fruit is available at the bar that day.
Grapefruit Sparkler
What to ask for: Grapefruit juice, club soda, splash of lime juice, and a sprig of rosemary or thyme — whatever is available!
Whatever your motivation, there are plenty of ways to enjoy a fun, refreshing drink without alcohol in it! So next time you hit one of Daytona Beach's favorite beach bars or find a good restaurant with live music, enjoy the experience with a mocktail in hand.