See more adventure-filled Daytona Beach videos on our YouTube channel!
While lots of people know Daytona Beach as a "family spring break" destination, the area is a hot spot for summer vacationers as well. Daytona Beach is jam-packed with family-friendly activities for a crowd-pleasing summer getaway! 
The Beach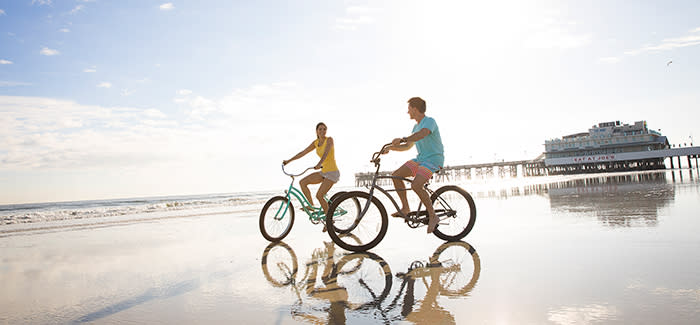 "Daytona Beach"— those two words just go together naturally, like a foot in a flip-flop or a carefree head in a colorful sun hat. There are dozens of attractions away from the water, but our 23 miles of white-sand beaches are the star. They are free to pedestrians 24/7 with access to all, including visitors with disabilities. Greet the day with a sunrise stroll in the sand, rent bikes and enjoy plenty of elbow room as you ride along the shore, catch a wave, or simply soak in the sunshine and let your worries melt away. And, you can drive your car very slowly right on the hard-packed sand on designated stretches of the beach.
Water Sports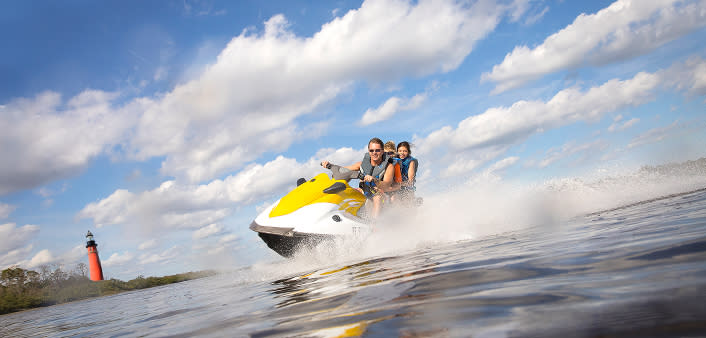 If you want to do more than get your toes wet in the waves, Daytona Beach has plenty of fun water activities for every member of the family. You can have all sorts of adventures in the Atlantic, from paddle boarding and surfing to kayaking and parasailing. There's fishing, boating and watching dolphins, too. The area's waterways, rivers and creeks offer a different view of nature, whether you're right on the water in a canoe or kayak or taking in the sights from a historic river cruise.
Daytona Beach Boardwalk and Pier
There's family fun aplenty at the Daytona Beach Boardwalk and Pier. This entertainment center offers rides and amusements, a classic arcade — including video games and Skee Ball — snack bars, restaurants and gift shops. Nearby Screamer's Park offers sky-high thrill rides just south of the Boardwalk on highway A1A. From Memorial Day through Labor Day, the Bandshell Summer Concert Series offers great music every Friday and Saturday night beginning at 7 p.m. and fireworks after the Saturday show.
Marine Science Center
See more adventure-filled Daytona Beach videos on our YouTube channel!
Located at Ponce Inlet in the southern part of Daytona Beach, the Marine Science Center lets the whole family get up close and personal with some of Daytona Beach's wildlife. Get your hands wet in an aquatic touch pool with stingrays and hermit crabs — an especially popular event for the kids. Explore fascinating exhibits on whales and the mangrove, an ancient tropical tree that is the foundation of unique coastal ecosystems. And, learn about conservation and rehabilitation efforts for sea turtles and seabirds. It's a fun and educational opportunity to help your family appreciate Florida's wild side.
Motorsports
Daytona Beach is an integral part of racing history, with legendary drivers racing on our beaches in the early 1900s. Now the action happens at Daytona International Speedway, the world's first motorsports stadium. A $400 million overhaul has created a world-class facility where the whole family can indulge their need for speed watching a race, taking a tour or visiting the Motorsports Hall of Fame of America.
Festivals
With more than 60 art, music and pop culture festivals, Daytona Beach is the Festival Capital of Florida. From culture and cuisine to motorsports and music, during spring and summer, there's a festival just about everywhere you look. New festivals are added all the time, so check the events page for the latest listings.
This is just a glimpse of some of the many activities and attractions that are sure to delight every member of the family. And, you'll be able to find accommodations perfectly suited to your vacation crew with all of the spectacular places to stay, including hotels, motels, bed & breakfasts, condos, vacation rentals, campgrounds and RV parks.
What are you waiting for? Summer fun for the whole family is waiting for you —plan your summer escape today!