It's hard to imagine achieving a more vacation-worthy vibe than the one felt when sipping on a frosty beverage with an ocean view — and bonus points if there's a tiny umbrella resting on the rim of your glass while you're doing so. And in the Daytona Beach area, there are plenty of spots where both the views and the drinks are top-shelf.
Next time you're lucky enough to find yourself soaking up some sun in Daytona Beach, consider heading for one of these 10 area hot spots to enjoy some good spirits while you're at it: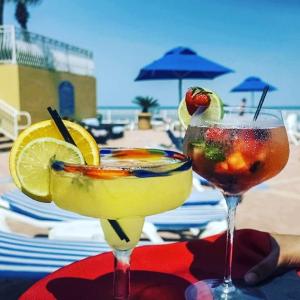 LuLu's Oceanside Grill — Found on South Atlantic Avenue in Ormond Beach, this favorite among locals and tourists alike specializes in fresh local seafood, burgers, steaks and live music. It's just a block from the beach, and its outdoor patio is a great place for soaking up some sun and sipping on a cold drink. Signature cocktails here include the Lavender Lu's featuring light rum, house-made lavender ginger syrup and fresh-squeezed lemon juice, and the Paradise Punch with coconut, mango, pineapple and melon rum mixed with an orange-pineapple juice blend and a dash of grenadine. Visit the LuLu's website to explore all of the food and drink offerings on tap here.
 Riptides Raw Bar & Grill — Found about 1.5 miles south of LuLu's on South Atlantic Avenue in Ormond Beach, this seaside restaurant captures the coastal lifestyle with its surf shack vibe, fresh-from-the-ocean offerings such as everyday all-you-can-eat crab, and oysters served fresh and baked on the half shell. Live music is a near-daily offering here, and the patio in particular is a choice spot for grabbing a cold drink. Signature cocktails here include the Beach Breeze with lemon vodka, triple sec, sour mix and Sprite, all topped off with a dash of strawberry puree, and the Category 5 with light and dark rums, a passion fruit mix and fruit juices. Explore the full menu on the Riptides website.
 
 The Oyster Pub Sports Bar & Grill — Located seaside on Seabreeze Boulevard in Daytona Beach, this establishment has been a staple among locals and visitors since its opening way back in 1979. Best known for its oysters — served raw, chargrilled, steamed and stuffed — this sports pub featuring 70-plus TVs playing the day's biggest games also offers a full pub-grub menu loaded with burgers, wings, seafood, soups, salads and sandwiches. To wash it all down, The Oyster Pub offers a variety of domestic and craft brews on tap, along with a full bar. Check out all the offerings on The Oyster Pub's website.
 Mai Tai Bar Daytona Beach — Found in the Ocean Walk Shoppes in Daytona Beach — and offering a great view of the Daytona Beach Bandshell and the Atlantic Ocean — this bar features regular live music, a renowned happy hour and a menu with highlights including seafood, wings, handhelds and salads. As the name implies, the signature drink here is the Mai Tai, with five different styles offered, each featuring its own variety of rums and juices. The drink menu here also features an array of specialty elixirs, martinis and margaritas, along with a wide selection of wines and beers. Explore the full menu on the Mai Tai Bar's website.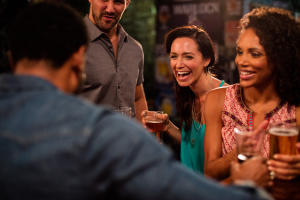 The Roof at Joe's Crab Shack — Perched directly above the waves atop the Daytona Beach Pier, this highly recognizable Daytona Beach restaurant specializes in — you guessed it — fresh-caught ocean favorites like crab, fish and chips, shrimp, calamari, oysters and other seafood staples. The family-friendly restaurant's rooftop patio is a picturesque place to take in a tasty meal with a side of over-the-ocean views, and the lengthy list of specialty cocktails here includes the rum- and vodka-powered Shark Bite and the rum- and juice-driven TKO Punch, just to name a couple. Dive into the full menu on the Joe's Crab Shack website.
 Ocean Deck Restaurant & Beach Club — Found on the oceanfront on S. Ocean Avenue in Daytona Beach, this seaside restaurant specializes in delicious seafood, tropical vibes, fun drinks and regular live music. Beach-food favorites here include fresh shrimp, crab legs, clams and the Ocean Deck's famous mahi-mahi. And highlights on the long list of islands-worthy beverages here include margaritas, mojitos, the Bahama Mama and the Jolli Rancher. Chart your own course here after exploring the full Ocean Deck menu.
 Top of Daytona — This fine-dining restaurant and lounge found on South Atlantic Avenue in Daytona Beach offers a 360-degree bird's eye view of the Atlantic Ocean and Daytona Beach Shores, all from the 29th floor of the area's tallest building along the Atlantic coastline. The sophisticated menu includes seafood, pasta dishes, steak and poultry, and the establishment's full bar serves a wide selection of popular cocktails. Regular live music adds to the elevated appeal here. Explore all the menu offerings on the Top of Daytona website.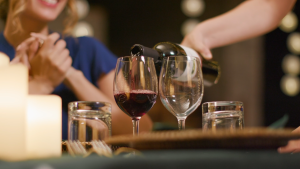 Racing's North Turn Beach Bar & Grille — Located on South Atlantic Avenue in Ponce Inlet, this revved-up oceanfront restaurant offers a true taste of racing history, as it sits in the exact spot where the first NASCAR-sanctioned stock car and motorcycle racing took place in the late 1940s through the late 1950s. The menu here is loaded with all-American favorites like seafood, burgers, sandwiches, steaks, ribs and barbecue, and live music is a regular draw . And of course, a solid selection of beers and a full bar are available for visitors looking to wet their whistles. Take a cruise through the full menu lineup at the Racing's North Turn website.
Off the Hook at Inlet Harbor — With locations in New Smyrna Beach and Ponce Inlet — and with the latter sporting great views of the Halifax River and Inlet Harbor — this local favorite seafood restaurant is sure to tempt the taste buds. The fresh ocean catches here include oysters, Alaskan snow crab, Creole boil, cracked conch, poke tacos and fried seafood platters, just to name a few. Landlubbers can also enjoy dishes like burgers, ribs and chicken, while an array of wines, beers and cocktails can also be reeled in. Live music is a regular treat here, as well. See the full menu on the Off the Hook website.
Hidden Treasure Rum Bar & Grill — This Ponce Inlet restaurant sports great views of the Halifax River and sits adjacent to both the Ponce Inlet Lighthouse and the Marine Science Center — making it a great refueling stop for visitors to either (or both) of those popular attractions. The menu features an array of seafood, wings, salads and sandwiches, and the specialty and frozen drinks here — some served in souvenir coconuts, lighthouse glasses and fishbowls — are a perfect fit for a visit to a tropical paradise. Bonus: The restaurant is pet-friendly and even offers a Paws Menu for man's best friend. Explore all the offerings on the Hidden Treasure website. (A second location in Port Orange even offers watersports rentals like jet skis, kayaks and paddleboards for those seeking a side of adventure with their meal.)
Ready to start planning your refreshing getaway to Daytona Beach? Check out the great accommodations available in the area now, and start planning your amazing beach vacation today! We'll be looking forward to seeing you and your thirsty crew in Daytona Beach soon!