When you're not kayaking in the waterways, exploring the exhibits at Halifax Historical Museum or rounding the raceway at Daytona International Speedway, it's nice to kick back, relax and sip a cold drink during your vacation. Take a break from your adventures and hit these favorite beach bars for great food, meaningful conversation and unbeatable ocean views. 
Located right on the beachfront, Ocean Deck is a Daytona Beach hot spot for live music and great food with a view. The relaxed island vibes of the original open-air lower deck beckon you to kick back with a drink right when you come off the beach — no shoes, no shirt, no problem! Upstairs, you can take a break from the heat with AC and delicious dining.
WHERE IT IS: 127 South Ocean Avenue, right on the beachfront
WHAT TO GET: Rasta Fish Dip, Ocean Deck Burger, Margarita
Easily walk over to this casual beachfront bar right from your setup in the sand. Waves Beach Bar is conveniently located just steps from the fun and activities on Daytona Beach, and it provides salads, sandwiches and drink specialties to hungry and thirsty beachgoers. 
WHERE IT IS: 100 North Atlantic Avenue, just past Main Street Pier
WHAT TO GET: Ultimate Pina Colada, Very Berry Tiki Cocktail, Key Lime Pie Explosion
Quench your thirst with a tropical concoction, or snack on coconut shrimp as you overlook the beautiful Atlantic Ocean. Located at the Fountain Beach Resort, this indoor/outdoor restaurant features live music and delectable options for the whole family.
WHERE IT IS: 313 South Atlantic Avenue
WHAT TO GET: Oasis Burger, Fried Mushrooms, Frozen Rum Runner
Live like a local at Ormond Beach's only oceanfront bar and grill. This hidden favorite is open for breakfast, lunch and dinner, but is also the perfect place to grab a cold one and watch the waves crash on the shore.
WHERE IT IS: 867 South Atlantic Avenue in Ormond Beach
WHAT TO GET: Corn Nuggets, Pork Nachos, any of the 10 craft beers on tap
Soak in the sunshine and the area's rich racing history at this iconic Ponce Inlet restaurant. Dine inside to enjoy looking at rare photos and racing memorabilia, or opt to go outside on the massive deck to relive where hundreds of people used to gather to watch the inaugural races of NASCAR!
WHERE IS IT: 4511 South Atlantic Avenue in Ponce Inlet
WHAT TO GET: Bacon-wrapped Sea Scallops, Jumbo Wings, Caribbean "Moonshine"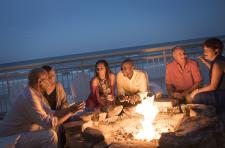 Appointed with authentic Tiki decor, the Tiki Hut at this luxury boutique-style resort takes casual to an elegant level. Order the Mango Moon to sip on while waiting for the ultimate in comfort food, The Grilled Cheese, or everyone's favorite the Tempura Grouper Sandwich. Small plates and salads satisfy light eaters, too. When the sun goes down, the bonfires light up. It's where you'll want to be for intimate gatherings.
WHERE IS IT: 2637 South Atlantic Avenue in Daytona Beach Shores
WHAT TO GET: Fried Green Tomatoes with Bourbon Molasses Vinaigrette, Shores Cuban Sandwich, The Shores Tropical Escape
The options are endless when it comes to tasty treats and cold drinks along the shoreline in Daytona Beach. Any of these are the perfect place to refuel your energy after a day of splashing— the ideal way to unwind, unplug and absorb the tropical paradise around you. Can't wait to gaze out at the Atlantic Ocean, margarita in hand? Start planning your trip today!