Wondering what to do in Daytona Beach beyond lounging in the sunshine and sand?
You won't have to search far. Whether you like your adventure on the natural side or like to take your day by storm with the help of modern mechanics — Daytona Beach has just what you're looking for. Find your thrill with any one of these fun area activities! 
Embark on an Eco-Adventure
The Daytona Beach area is chock-full of beautiful spaces to explore by foot or on two wheels. Lyonia Preserve is the perfect place to connect with nature, thanks to its extensive hiking trails and 360 total acres of preserved ecosystem. Another picturesque place to go hiking in the area is Lake Woodruff National Wildlife Refuge, which features over 10 miles of hiking trails. View even more parks and trails to explore in Daytona Beach!
If you like to create more of a breeze when you explore, Daytona Beach has options for you, too! Rent a bike at one of the many local rental shops — many even offer delivery right to your hotel! Cruise down 23 miles of hard-packed beaches. Head to "The Loop" for a scenic ride amongst oak trees and waterways. Or explore some of Florida's finest paved and mountain bike trails.
Kick Back in a Kayak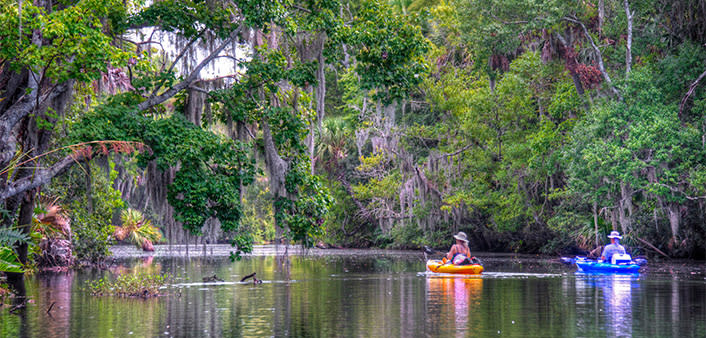 Daytona Beach is surrounded by water — from inlets to creeks to the ocean — and one of the best ways to experience it is to float along it! It's easy to rent a kayak in the area, as many of the parks rent them right on-site. And, if not, there are several watersports stores in the area that have everything you need for a day on the water.
Explore the waterways, soak in some fresh air, and get to know Florida's wild side at any one of the top eight places to kayak in the Daytona Beach area! The list includes gems like Blue Spring State Park, which hosts a crystal clear, 73-degree natural spring year-round!
Go Surfing Along 23 Miles of Beaches!
Have you ever pictured yourself riding a wave and reaching a perfect mix of peace and adrenaline? You're in the right spot! Daytona Beach, with its approachable wave size and 23 miles of beaches, is a great place for beginning surfers to get started. And there are plenty of local surf shops that rent boards and offer lessons. Read up on all you need to know about surfing in Daytona Beach and then hit the water!
Kick up Some Fun Along the Shoreline by Renting Jet Skis!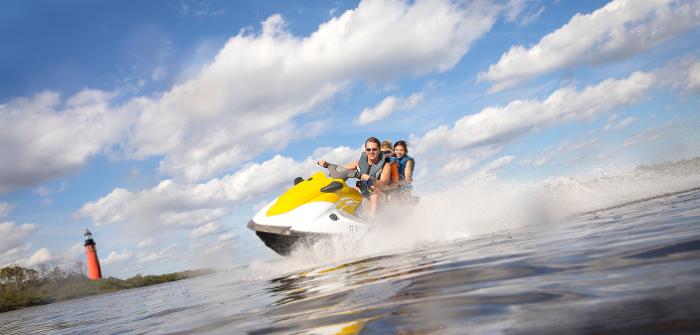 Jet skiing is a favorite activity among families, and it attracts thrill seekers of all ages. There is nothing quite like getting out on Daytona Beach's open waters to tear up the surf  — take your jet ski adventure out onto the Atlantic or explore the Intracoastal Waterway and our expansive backwater estuaries. Unable to fit your jet ski in your suitcase? No problem. There are a variety of Daytona Beach shops that have jet ski rental outposts to fulfill all of your rental needs. 
Get an Elevated View with a Horse Ride on the Beach
Saddle up for adventure with Equestrian Adventures of Florida, a unique way to experience the beauty that the Daytona Beach area has to offer. Atop a horse, you'll have an elevated perspective of all that makes Daytona Beach so wonderful and feel closer to nature than ever before. You're not limited to the beach, though­­ — woodland trails and state park excursions are also offered.
With this group's guidance and the area's natural wonder, you are sure to have a one-of-a-kind vacation adventure.
Feel the rush at NASCAR Racing Experience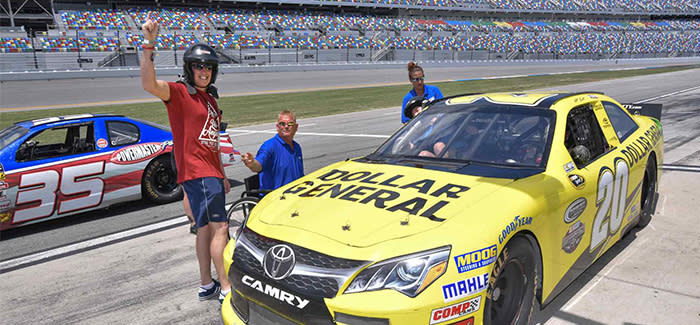 If you want to experience the rush of Daytona Beach's world-famous racing, don't miss the NASCAR Racing Experience. Here at the world center of racing, you can get behind the wheel for yourself, or ride shotgun with a seasoned instructor. Start your engines for an unforgettable experience!
From the many rivers and backwater creeks to the rush of watching race cars fly by, Daytona Beach offers an adventure around every corner.
Start planning your trip today! Enjoy a look at everything Daytona Beach has to offer and download our free official destination guide or sign up for our e-newsletter.