From water sports to shopping, there's no limit to the fun activities available in Daytona Beach. But beyond the splashing and the beach strolling, there is a rich history in the area waiting to be discovered by you! On your next visit to Daytona Beach, one must-see historical site is the Mary McLeod Bethune Home & Gravesite.
This National Historic Landmark is the former home of civil rights leader, educator and founder of Bethune-Cookman University Dr. Mary McLeod Bethune. Known as the "First Lady of Negro America," Bethune spent a lifetime working toward racial and gender equality, and much of her impact was made right here in Daytona Beach. You can experience much of her incredible story and influence on a tour of her home.
Who is Mary McLeod Bethune?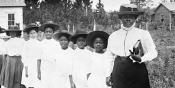 On July 10, 1875, Mary Jane McLeod was born in Mayesville, South Carolina — the 15th of 17 children, and the first child in her family born free. The daughter of former slaves, she grew up in a small cabin built by her father and brothers on their cotton farm and became the first person in her family to receive a formal education. With a bright mind and strong work ethic, she quickly realized the value of education — a commitment that would become a staple of her work later in life. 
As a young teacher, Bethune was dedicated to providing fair and equal educational opportunities to children. In 1904, she moved to Daytona Beach and opened her own school called the Daytona Normal and Industrial School for Girls. Her school eventually merged with the Cookman Institute to become Bethune-Cookman College, and today it is a fully accredited university.
In 1935, Bethune moved to Washington, D.C., to assume a position in the Roosevelt administration. While there, Bethune founded the National Council of Negro Women (NCNW), an organization dedicated to uniting thousands of African-American women and combating racial and gender inequality worldwide. In 1943, Bethune established the first national headquarters for the NCNW in Washington, D.C., where it is preserved as a National Historic Site by the National Park Service. 
About the home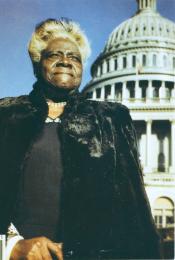 A visit to the Mary McLeod Bethune Foundation National Historic Landmark allows you to get a closer look at Bethune's important legacy. This historic home was built in 1904 and is fondly referred to as the "Retreat." It was here that, during her years as president of the new and thriving Bethune-Cookman College, Bethune raised her son (and later her grandson), hosted various political leaders and activists, and spent her last years after retirement. In 1953, two years before her passing, Bethune willed the home to the Mary McLeod Bethune Foundation to serve as the organization's headquarters and a place to "awaken people and have them realize there is something in the world they can do." On December 2, 1974, the historic home received the designation of National Historic Landmark by the United States Secretary of the Interior.
About the tour
Thousands of visitors come from around the world each year to walk in the steps of a great woman. The home reflects the legacies of Bethune and her many visitors, including First Lady Eleanor Roosevelt, Langston Hughes, Jackie Robinson and Ralph Bunche. A large collection of original personal artifacts, photos of famous visitors and letters is also on display for viewing. 
Bethune is fittingly buried on the grounds where she made such an impact. You can stop by to view the home and the gravesite on guided tours Monday through Friday from 10 a.m. to 3 p.m. and on Saturdays by appointment.
Tours are free for all visitors, but the foundation does accept donations to support the work of the historic home. 
Hours of Operations
Monday- Friday: 10 a.m.-3 p.m. (Walk-ins welcome)
Saturday: By appointment only
Sundays and some holidays: CLOSED 
Don't miss this National Historic Landmark on your next trip to Daytona Beach — plan your trip today!