Take a walk back in time with a visit to Cracker Creek & Gamble Place. Located just south of Daytona Beach off of I-95, this environmental and historic treasure offers a fun, educational experience for all ages.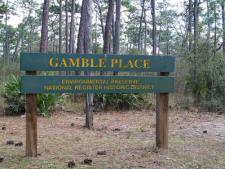 Gamble Place was once the home of James N. Gamble, who is best known for his work with his company Procter & Gamble. Gamble used to head south for the winter, and he eventually became a part-time resident during the winter months when he bought this property along Spruce Creek.
Stepping on the property feels like stepping back into Gamble's turn-of-the-18th century world. The property is adjacent to Cracker Creek and is surrounded by 175 acres of naturally beautiful land and marsh areas. The associated nature preserve has protected Gamble Place from "progression" — so you can experience the area almost exactly the way Gamble first did in the late 1800s.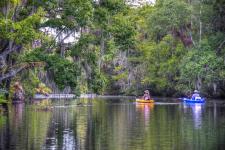 Proudly listed on the National Register of Historic Places, Gamble Place still includes the original home, cottage and citrus-packing house. The home was built with what is referred to as "Florida cracker architecture" — a style of wood-frame homes that were popular in the area in the 19th century. Typically, a cracker-style home would feature a metal roof, large porches and high sections of walls meant to help with ventilation. The owners named the house "Egwanulti," a Native American word that means "by the water." As for the citrus-packing house, it's a distinctly Floridian building that initially housed machinery and workstations to package local oranges to sell further north. While its orange-packing days passed long ago, the structure's historical significance remains.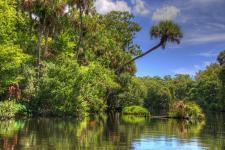 Come and experience these historic grounds, as well as the wildlife, cypress trees and other native features found here. If you call ahead and make reservations, you can arrange a guided tour that allows you to explore the inside of the Gamble Place buildings, but keep in mind that a minimum party of 10 people is required for this private tour experience. Otherwise, you can opt to take a self-guided tour, which is available Wednesday through Sunday during regular operating hours.
Self-guided tour: Adults $3, Senior Adults $2, Children FREE
Guided tours: Adults $6, Senior Adults $5, Children: $3
While you're there, be sure to explore the rest of Cracker Creek's historic outdoor venue. Its location directly on the Spruce Creek makes it a picturesque place to rent a kayak and go for a cruise, hop on a boat tour and hear about the area's history, or walk along miles of nature trails. And if you fall in love with the space, you can rent the venue for corporate events, weddings, parties and more. Get more details by visiting CrackerCreek.com, and start planning your visit to Daytona Beach today!