For visitors to the Daytona Beach area, a unique window into history can be found just a short day trip away. Located about 30 miles inland from the Daytona Beach coastline, the Barberville Pioneer Settlement allows visitors to experience what life was like in rural Florida a century ago with historical structures, artifacts and tours.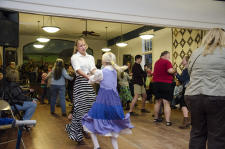 Dedicated to sharing and preserving Florida's history for the past 40-plus years, the Barberville Pioneer Settlement is run by an independent nonprofit organization that was established in 1976 by a group of Volusia County teachers. The group's mission, which it still carries out today, is to educate the public and future generations about the pioneer lifestyle of the region's original settlers. This is accomplished through living-history demonstrations, hands-on experiences, preservation and historical exhibits.
Located in western Volusia County, the charming historical village features a 30-acre campus covered with moss-draped oak trees and showcases a collection of 15-plus historical buildings, including the Central Barberville Schoolhouse Museum, the Astor Bridge Tender's House, a country store and more. A collection of over 10,000 artifacts displayed in the village's buildings helps give visitors a feel for what life was like in the area in the late 19th and early 20th centuries.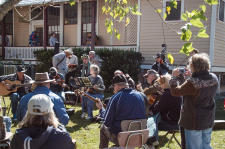 Springtime is a jammin' time at the settlement! For two days every April, over 200 statewide musicians provide a musical treat to Spring Frolic festival goers. There's even a chance to participate in the "open to all" jams. For over 40 years, the Fall Country Jamboree has delighted audiences of all ages with its pioneer living demonstrations, including the sounds of sights of steam engines, sugar cane grinding and boiling and weaving. Celebratory music, a juried art and craft show and  daylong storytelling are just a few of the festivities.  
The campus also offers a fun and unique setting for events such as weddings, family reunions, birthdays, business team-building activities, community, church and school events, and more. Interested parties can rent the settlement's kitchen facilities, outdoor pavilion, church, or small auditorium with room for up to 100 guests.
For more information about the Barberville Pioneer Settlement, including hours, admission prices, rental information and more, visit the settlement's website.
Whether you're looking for modern-day amenities and adventure or are a history buff looking to learn about coastal Florida's past, the Daytona Beach area offers extensive and exciting options for everyone in your vacation crew. Start planning your trip today, and get ready for some Wide. Open. Fun. in the Florida sun!