As parents of middle school- and high school-aged adolescents know, traveling with teenagers can often present a range of challenges. While of course not an across-the-board rule, children in this age group tend to have age-specific interests that might not align with those of the grown-ups and any younger kids in the travel crew. Further, kids at this age can also tend to be more independent and adventurous than their elder and junior travelers.
But with the right planning and a well-thought-out destination choice, every traveler in your vacation party — no matter how young, old or experienced at traveling — can find plenty of activities and attractions to keep them interested and entertained during your getaway.And in a bit of good news, the Daytona Beach area offers a long list of options that can keep visitors of all ages happy — even the sometimes-hard-to-please teenagers.
During your next visit to the Daytona Beach area with teenagers in tow, consider these six local activities and attractions that are sure to be a hit with the teen set:
An off-putting outing: At Congo River Adventure Golf, about a block from the oceanfront on South Atlantic Avenue in Daytona Beach Shores, 18 holes of award-winning mini golf await — complete with mountains, waterfalls, streams … and even live alligators that the bravest of visitors can feed! Other on-site activities include an arcade and gem mining.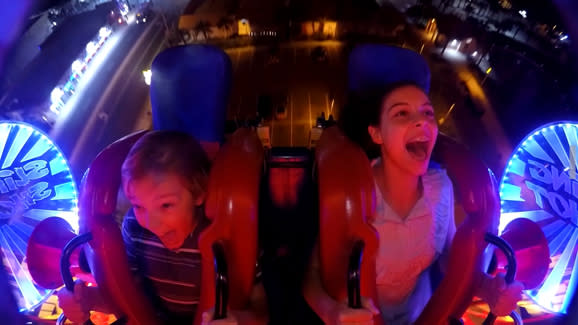 A thrilling adventure: The SlingShot and other rides at Screamer's Park, a short walk from the Main Street Pier in Daytona Beach, provide high-speed, high-thrills excitement for adventurous riders. Billed as "the ride the astronauts feared," the 165-foot-tall Vomatron hits speeds of as much as 70 miles per hour while treating riders to a 3-5 G experience. And standing at 365 feet tall, the SlingShot launches riders to speeds of as much as 100 miles per hour.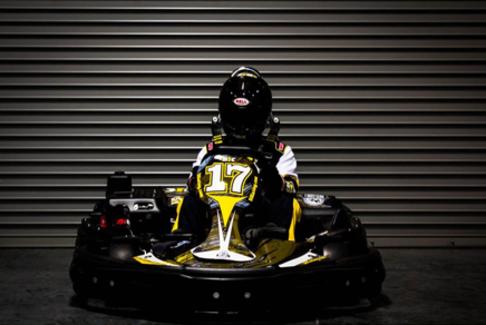 A high-speed highlight: Daytona Beach's Speedway Indoor Carting (SIK) offers a pair of go-kart courses that racing lovers are sure to want to take a spin on — a slick oval track that's perfect for drifting enthusiasts and a multi-level road course that has a European feel. For those looking to try something new, the facility also offers axe throwing — a sport that's seen big jumps in popularity lately thanks to its sharp appeal.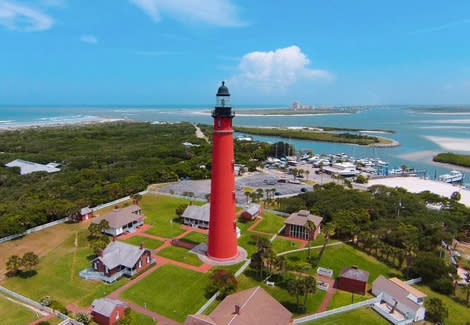 A lofty experience: At Ponce Inlet Lighthouse, visitors who climb the 203 steps to reach the top of the tallest lighthouse in Florida are treated to 360-degree views of the Atlantic Ocean, the Intracoastal Waterway, and the charming town of Ponce Inlet, all from 175 feet above the ground. History buffs can also visit the adjacent museum for a look into lighthouse life, local shipwrecks, Fresnel lenses, and more.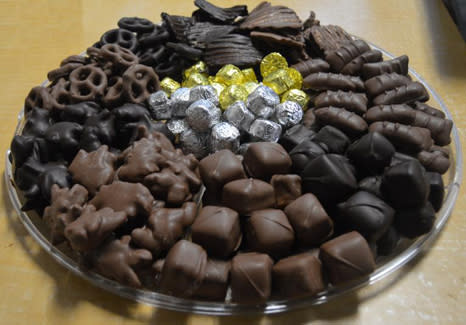 A tasty trek: Located on historic South Beach Street in Daytona Beach, Angell & Phelps Chocolate Factory has been named one of the nation's top 10 sweetest attractions by TripAdvisor — and for good reason. Here, visitors with a sweet tooth can indulge in an array of fresh, handmade chocolates while learning how their favorite rich and decadent sweet treats are made. Beyond chocolate candies, other tempting offerings on hand include chocolate-covered chips, pretzels and popcorn.
A pedal-powered adventure (or cart-worthy cruise): For those looking for outdoor fun on wheels, the bike rental and golf cart rental options are abundant in the Daytona Beach area, as are the opportunities for scenic coastal rides. And for those in your vacation crew who have yet to reach driving age but are eager to get behind the wheel or take to the streets, neither of these awesome activities require driver's licenses to get the fun rolling!
Ready to get away to Daytona Beach with your full family in tow? Start planning your all-ages coastal adventure today! We'll be looking forward to seeing you and your vacation crew soon for some Wide. Open. Fun.