Whether you are looking for an outdoor family adventure or a fun way to top off a special date, miniature golf is a great way to get outside and enjoy a little friendly competition.Get into the swing of things at any of these four mini-golf courses in the Daytona Beach area:
ALOHA FALLS
WHERE: 2504 South Atlantic Avenue, Daytona Beach Shores
HOURS: Daily from 11 a.m. to 10 p.m.
COST: $12 per player for both courses or $8 for one course; Kids age 4 and under are FREE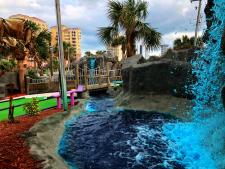 Aloha Falls Miniature Golf offers family fun and outdoor adventure in Daytona Beach Shores. The family-owned and -operated business offers two well-maintained 18-hole courses filled with twists, turns, a 30-foot steaming volcano, mountain caves, roaring waterfalls and more. The fun Hawaiian décor will have you in an island state of mind, and you can even catch a glimpse of the glittering Atlantic Ocean from the bow of the ship on site.
CONGO RIVER ADVENTURE GOLF
WHERE: 2100 South Atlantic Avenue, Daytona Beach Shores
HOURS: 10 a.m. to 11 p.m. Sunday through Thursday; until midnight Friday and Saturday nights
COST: Adults: $12.99, Kids age 9 and under: $11.49, One child age 4 and under: FREE
At Congo River Adventure Golf, you may think you've departed Daytona Beach for an African jungle safari! In addition to 18 holes of award-winning miniature golf, you can also explore the arcade game room, dig for "fossils," feed live alligators and more — all located about two miles south of the Daytona Beach Pier. Plus, save up to 18% when you book your visit online.  
DAYTONA LAGOON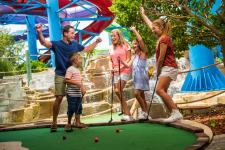 WHERE: 601 Earl Street, Daytona Beach
HOURS: Vary by day and month; be sure to check the schedule online
COST: $7.49
Enjoy 18 holes of laid-back family fun at Daytona Lagoon, where your mini-golf experience weaves underneath the park's Panama Jack's waterslides. And if you need to cool down after your round of mini golf, splash around the water park side of the complex. At the area's premier water park, your family can choose from an array of speed racer rides and lazy rivers. While you're there, check out the entertainment center's Go Kart rides, laser tag, or sky-high ropes and obstacle course.
PIRATE'S ISLAND ADVENTURE GOLF
WHERE: 3420 South Atlantic Avenue, Daytona Beach Shores
HOURS: Daily from 10 a.m. to 10 p.m.
COST: Adults: $11.50, Kids age 5-12: $9.50, Kids age 4 and under: FREE
Head to Pirate's Island Adventure Golf for a round of mini-golf amongst scenic streams and waterfalls. Follow Captain Kidd and Blackbeard through 18 holes of pirate fun! And, a special treasure awaits those who are skilled — or lucky —enough to achieve the coveted hole-in-one. And if you aren't so fortunate, at least you can soak in views of the Atlantic Ocean from the top of the course's mountain. Plus, you can buy extra rounds for just $5 each, or upgrade to all-day play for only an additional $7.
So, whether you need a beach break, an after-dinner activity or a just a fun outing the whole family can enjoy, opt for a round of putt-putt! From claiming mini-golf glory to paddling off the beaten path or soaking in the sun on 23 miles of beaches, Daytona Beach is full of endless adventures for all ages. Start planning your trip today!