For visitors of all ages and interests, there's always plenty of fun to be found in Daytona Beach. And the holiday season is certainly no exception  — even if the temperate weather along the Florida coast may not be the first to spring to mind when most people think of the holidays.
If you and your vacation crew are looking to get a break from the typical winter temperatures this holiday season, Daytona Beach is the perfect place. Consider these fun (and spirited) reasons to put a Daytona Beach trip on your end-of-year itinerary: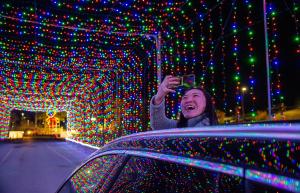 Magic of Lights
Bringing a million-plus sparkling holiday lights to the world-renowned Daytona International Speedway, the drive-through Magic of Lights® Holiday Display is sure to put your vacation crew in the holiday spirit. Festive favorites here include the Enchanting Tunnel of Lights, Candy Cane Lane, Toyland, the new, 40-foot-tall "Illuminating Mega Tree" and lots more — all complemented by classic holiday tunes.
LEARN MORE
Jingle Jog 5K
Perfect for the fitness lovers looking to work some spirited exercise into their holiday vacation activities, the Jingle Jog 5K — held on the evening of December 3 — boasts a running course that starts at ONE DAYTONA and takes participants through the Magic of Lights® Holiday Display mentioned above.
LEARN MORE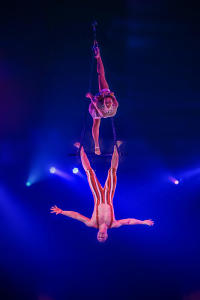 Peabody Holiday Shows
Known for hosting concerts, ballets, Broadway shows and other live performances throughout the year, Daytona Beach's historic Peabody Auditorium also decks the halls with spirited holiday shows when the season arrives. The special events found on this year's seasonal lineup include Mannheim Steamroller Christmas, Cirque Dreams Holidaze, The Nutcracker Ballet and more.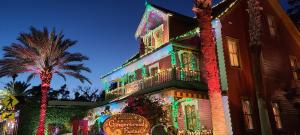 Gingerbread Fantasy Holiday Light Display
Another festive display of holiday lights, this seasonal attraction sees Ormond Beach's Rose Villa Southern Table and Bar transformed into a larger-than-life gingerbread house — complete with hundreds of festive lights, resident gingerbread men and women, towering lollipops, illuminated topiary snowmen, and more.
LEARN MORE
Bright Lights and Merry Nights Christmas Parade
Set for December 11, this Daytona Beach Christmas parade will travel 1.4 miles along Beach Street from Bethune Point Park to Bay Street.
LEARN MORE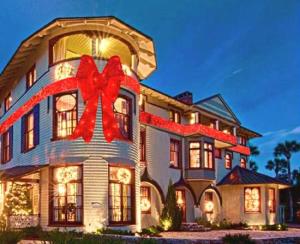 Christmas Spectacular at Stetson Mansion
Among the holiday delights delivered by DeLand, this annual celebration at Stetson Mansion sees "the House That Hats Built" decked out in holiday decorations. Ten themed rooms are put on display for visitors, and regular tours are available.
LEARN MORE
Daytona Beach Christmas Boat Parade
This unique holiday tradition sees a line of festively illuminated boats stage a floating parade along the Halifax River on December 4. Attendees can claim their favorite from an array of great viewing spots along the riverfront between the Seabreeze Bridge and the Halifax Harbor Marina.
LEARN MORE
Moonlight Beach Run
This January 1 event sees participants get the new year off to a running start with four late afternoon/early evening races along the hard-packed sands of the World's Most Famous Beach. Course options include a half marathon, a 15K, a 10K and a 5K.
LEARN MORE

Of course, this list is far from complete — for those who look for them, plenty more holiday-themed events can be found this year in the Daytona Beach area.
Ready to start planning your holiday-season getaway on the Florida coast? Check out the holiday deals available in Daytona Beach, and start planning your holiday vacation today! We'll be looking forward to celebrating the season with your vacation crew!