In recent years, St. Patrick's Day has become synonymous with green beer, clover décor and "Kiss me, I'm Irish" T-shirts. Although it is unlikely that the patron saint of Ireland ever indulged in green milkshakes or danced jolly jigs, the holiday is a fun excuse to eat tasty treats and enjoy a brew with friends — even if you aren't Irish! And this year, St. Paddy's falls on a Saturday, lending the perfect opportunity to make the most of area festivities. Join in the shamrock shenanigans on St. Patrick's Day during your visit to the Daytona Beach area!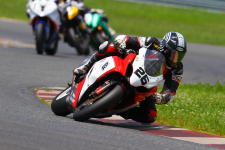 DAYTONA 200
Opt for a St. Patrick's Day filled with speed at the DAYTONA 200! Bike Week at Daytona International Speedway is home to an array of motocross races, demo rides, live events and more, and it all culminates with the 77th running of the historic motorcycle race. Get your tickets to the DAYTONA 200 today! 
McK's Tavern Fine Food & Spirits
Well-known in the area for its green beer, festive parties and happy patrons, McK's is a favorite full-service Irish pub centrally located in downtown Daytona Beach. The pub hosts an annual St. Patrick's Day party that takes over a whole block on historic Beach Street, and this year's promises to hold just as much food and fun as always! Based on previous years, you can expect a "Pot 'o Gold Treasure Hunt," traditional Irish cuisine, bagpipe music and Irish-themed entertainment. McK's opens at 11 a.m., and the fun will continue all day long!

Daytona Beach Racing & Card Club
Make like a leprechaun and go for the gold — or, in this case, for the green — with an evening of gaming and celebration at the Daytona Beach Racing and Card Club! Corned beef, cabbage and other traditional Irish fare will be served to those who work up an appetite. Or, head over to the Poker Room — just don't let your jolly face give you away!
The Kilted Man Celtic Music
This St. Patrick's Day, soak in the sounds of traditional Irish and Scottish music at the New Smyrna Beach Regional Auditorium at 2 p.m. Back by popular demand, Scottish-born Matthew Gurnsey will again delight audiences of all ages with his exciting live music. Prepare to be serenaded by his many Celtic instruments, including the concertina, bodhran, bones, mandolin, penny whistle and bowed psaltery — it's a show well-suited to the holiday, and it's completely free of charge! 
Whether you wish to enjoy a corned beef sandwich, go all out at a festive event or simply soak in the spectacle of so many people wearing leprechaun hats, the Daytona Beach area is a fun place to celebrate. And if green beer isn't your thing, there are plenty of other activities to keep you and your family happy here. From paddleboarding the waterways to climbing to the top of Ponce Inlet Lighthouse, endless adventures await in Daytona Beach — plan your trip today!