When people think of Daytona Beach, stock car racing, the Atlantic Ocean and family vacations understandably come to mind, but the area's ties to golf run far deeper than many realize.
One of America's first seaside golf destinations, Daytona Beach has been attracting players - including some of the game's legends - since the turn of the 20th century. As golfers flock to the area to enjoy the perks of a modern golf vacation, here are five facts that underscore the game's deep roots in a destination widely known as the "World's Most Famous Beach."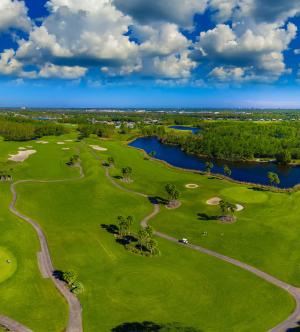 • Daytona Beach is the home of the LPGA Tour and LPGA International, a 36-hole facility that includes the highly acclaimed Jones and Hills courses. Golf legend Karrie Webb won two of the four LPGA Titleholders Championship events held at the property and the national exposure helped solidify the area's reputation as a golf hotspot.
• Riviera Country Club is home to America's longest-running mini-tour event, and it counts former PGA Tour winners Morris Hatalsky, Bert Yancey and Billy Hurley among its past champions. "Riviera CC in Ormond Beach is the shiniest hidden gem I've yet encountered in Florida," Tim Gavrich, of GolfPass wrote. "If every county had a course/facility like this, there would be 30+ million golfers - easily - in the US. You can't help but be madly in love with the game at a place like the (people's) Riv."
• Donald Ross is the Godfather of American golf course architecture and he designed the South Course at Daytona Beach Golf Club and New Smyrna Golf Club, municipal facilities that provide players easy access to the work of one of the game's giants. Speaking of legends, the South Course once hosted four of golf's all-time greats, Ben Hogan, Sam Snead, Jimmy Demaret and Byron Nelson, for an exhibition match. A three-time Masters champion, Demaret shot a course record 63 to win the match.
• Daytona Beach's storied relationship with the professional game also extends to the Club at Pelican Bay, where Orville Moody once chipped in to defeat the "King" Arnold Palmer in a sudden-death playoff to win a PGA Senior Tour event. If you are counting, that's three Daytona Beach area courses that have challenged golf's icons.
• Spruce Creek Country Club hasn't hosted a professional event, but as the home of America's largest private fly-in community, more than a few celebrities have touched down on a landing strip that is adjacent to the course. It's not unusual for a private jet to fly a couple hundred feet overhead when golfers are playing the eighth and ninth holes, adding to the charm of a round.
Daytona Beach is a destination of choice for discerning golfers and the area's rich history plays an underrated role in its considerable appeal.
For more information, visit DaytonaBeach.golf.