The sizzling days of summer aren't the only time a refreshing cocktail can hit the spot in Daytona Beach. Our renowned vacation destination is also home to a range of special drinks that are a perfect fit for the crisper weather of the fall months on Florida's Atlantic coast.
During your next visit to the Daytona Beach area, be sure to seek out these four tempting and tasty libations that are sure to warm you up as the temperatures cool off: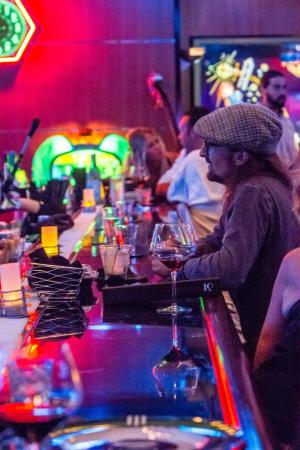 Frozen Hot Chocolate: At 31 Supper Club in Ormond Beach, the posh, 1930s-inspired environment lends a discernable speakeasy vibe. So it should come as no big surprise that the establishment's lineup of craft cocktails is an impressive one reminiscent of a drink menu that might be found in Prohibition-era nightclubs. One standout among the offerings — the Frozen Hot Chocolate — puts a temperate-weather twist on a fireside favorite. (This drink may be frozen, but its ingredients are likely to deliver some inner warmth). Order your own to discover how tasty just the right mix of Stoli Raspberry, Godiva dark chocolate, Frangelico and Belgian chocolate milk, all topped with whipped cream, can be.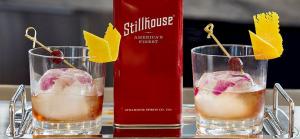 The Intimidator for Two: Found in THE DAYTONA hotel — located just across the street from Daytona International Speedway — the Blue Flame Bar features a prime view of Victory Circle at the ONE DAYTONA shopping/dining/entertainment complex. It also boasts a winning cocktail menu filled with auto racing-inspired specialties, each of which could claim the checkered flag on the right day. One drink that's sure to leave guests who try it revved up is the Intimidator for Two, a twist on the Old Fashioned featuring Stillhouse Black Bourbon, demerara sugar syrup, orange and aromatic bitters. If you're giving it a try, be sure to bring a partner — this specialty drink is designed for sharing.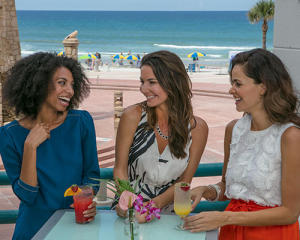 The Blind Turtle: Situated poolside at the Hilton Daytona Beach Oceanfront Resort and offering amazing Atlantic Ocean views, The Blind Turtle is about as laid-back as a tiki bar can get. But don't let the casual vibe fool you — this place is serious about its signature craft cocktails. Among them, the namesake Blind Turtle is an always-welcome tummy warmer with its perfect mix of Real McCoy Rum, vodka, gin, tequila, triple sec, orange juice, cranberry, pineapple and grenadine.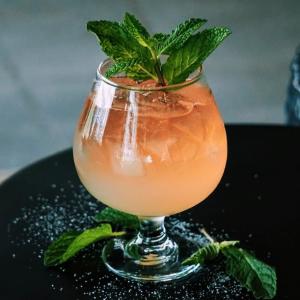 Mama Foo Foo: Found alongside the Halifax River in Daytona Beach, Mama Foo Foo may be best known for its marina views, elevated atmosphere and eclectic menu of shareable plates. But its cocktail menu is certainly not to be overlooked, and one of its tempting offerings — the Midnight Hustle — is an especially fine fit for the fall. When you're in the mood for a drink with a healthy dose of pick-me-up in the mix, try out this concoction featuring Wheatley Vodka, St. George NOLA Coffee Liqueur, Tempus Fugit Crème de Cacao and a shot of espresso.
Ready for a memorable autumn coastal escape complete with great weather and relaxing, laid-back beach vibes? Start planning your Daytona Beach getaway today!