Looking to gear up for your Daytona Beach-area fishing excursion? Before you hit the water, head to The Fishin' Hole, a favorite local bait and tackle shop conveniently located on North Beach Street. This hometown, family-owned shop was established in 1959 and is still considered the go-to full-service fishing and tackle spot in the greater Daytona Beach area. 
The Fishin' Hole is equipped to supply first-time fishermen (and fisherwomen), as well as avid anglers. From soft plastics and spinners to sunglasses and apparel, you'll be able to find everything you need for your fishing expedition here. Get live and frozen bait, and pick from a large selection of premium offshore bait.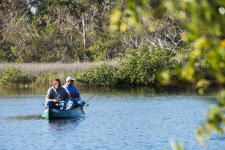 Need your reel re-strung? Searching for the perfect souvenir to remember your visit to the area? Whether you're looking for the right lure for local fish or need bait for your offshore fishing venture, this shop has you covered. In fact, The Fishin' Hole was recently named the winner in The News-Journal's 2017 Best of the Best listings in the Bait & Tackle category for Volusia/Flagler County. 
Although some might expect a bait and tackle shop to be strong-smelling or a bit grungy, The Fishin' Hole is clean and sleek on both the inside and the outside. It was newly renovated in 2014, but it still has enough salty character to keep the place feeling authentic. The inside is neatly organized, and the staff is happy to help direct you to what you need if you're unable to find it right off the bat — good service is a priority here.
Perhaps even more valuable than the wide array of bait and tackle that the shop offers is the employees' priceless knowledge of local waters. The friendly staff at The Fishin' Hole will be able to tell you some of the best spots to reel in a redfish, where to look for flounder and which bait you can trust for bass. That kind of understanding of the area is hard to come by, and it makes a visit to the Fishin' Hole worth your while. 
There are endless waterfront and fishing adventures waiting to be had in and around Daytona Beach. Whether you want to fish off the pier, try your luck offshore or explore the backwaters of the area, make sure you head to The Fishin' Hole before you begin. Start planning your trip today!