Nothing about golf is easy, it's part of the game's charm, which helps explain why players are eager to share stories of success, highlighted by the opportunity to recount any birdies made after a round.
Daytona Beach is home to more than 300 golf holes but some offer a greater chance to circle a number on the scorecard than others. With that in mind, here are five of Daytona Beach's shortest par 5s and by extension, easiest birdie holes:
● The opener at Riviera Country Club, a mere 421 yards (all distances are from the white or most commonly played tees), may offer the Daytona Beach area's best chance at birdie. A pond lurks on the portside of the gentle dogleg left but trouble is at a minimum. The front of the green is open, allowing players to run the ball up make an aggressive play at the pin. There is little better than starting a round with birdie and The Riv offers an excellent opportunity.
● Conversely, the closing hole at Crane Lakes, a 425-yard par 5, gives players a chance to finish the day with a smile but it's not without risk.  Water runs along the entire left side of a hole that includes a 90-degree dogleg left, beginning approximately 100 yards from the green. Players that want to reach the green in two will have to carry water to a putting surface that's only 15 yards wide in the middle. The smart play here is to stay away from the water, setting up a short approach and the hope of making a putt.
● Another dogleg left, the 11th hole on the Preserve at Turnbull Bay is just 435 yards. While water threatens the entire left side, the tee shot is manageable. The challenge, for players that want to attack, is a pond that bisects the fairway approximately 40 yards from the green, leaving little room to come up short. It's certainly a risk-reward decision. 

● The seventh hole at Deltona Club is straight-away and just 441 yards with nary a drop of water. There is danger in the form of waste bunkers on both sides of the fairway, but there shouldn't be any lost balls. Golfers can be aggressive in search of a four.
● The 10th hole on the North Course at Daytona Beach Golf Club is just 444 yards with plenty of fairway and little trouble off the tee, but it may be the area's most dramatic par 5. The drama comes in the form of an island green, which is reachable in two but the penalty for coming up short is a watery grave for golf balls. No matter the result, this is a hole people remember.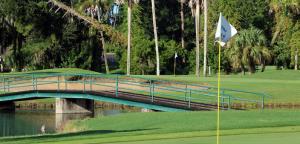 Home to nearly 20 other courses, Daytona Beach offers many opportunities to make birdie but these short par 5s maximize a golfer's chances.
For more information, visit DaytonaBeach.golf.