With the unofficial start of summer underway, vacationers will be flocking to Daytona Beach to enjoy the good times that have made the area one of America's most popular vacation destinations.
Those family trips are also the perfect time to sneak away for a quick round of golf and potentially introduce your children to the game in one of Florida's most player-friendly locales.
If your family is still learning the game, here are the best Daytona Beach golf courses for beginners:
● At the top of the list is Oceans Golf Club, a 13-hole, par 3 course that was named one of "America's Exceptional Hybrid Courses" by Golf Digest. The privately-owned, non-profit facility has two sets of tees playing 903 and 1,142 yards. More skilled players will enjoy the challenge of a layout that has holes ranging from 36 to 116 yards in length, while newcomers will appreciate the chance to play a short course that isn't penal. Did we mention the course is less than 300 yards from the ocean in Daytona Beach Shores?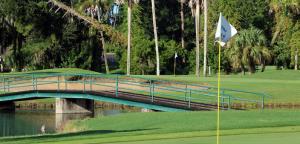 ● Daytona Beach Golf Club, a municipal facility, is home to a thriving junior program, a pair of outstanding teachers, Brian Stackpole and Lenny Morrow, in the event you want a quick lesson, and two golf courses that won't overwhelm. The Donald Ross-designed South Course has tees that range from 3,871 to 6,229 yards, allowing players of all skill levels to enjoy a layout designed by one of the game's legends. Given its central location and family-friendly vibe, Daytona Beach Golf Club is a great place to spend an afternoon.
● If you or a member of your family is just getting started in the game and aren't quite ready to hit the course, make it a point to visit The Rough Virtual Golf Center located in Ormond Beach. The indoor facility features simulators that transport you to some of the game's legendary layouts while allowing you to swing clubs without the pressure of being on the course. The state-of-the-art simulators provide real-time swing feedback and it's a great way to get comfortable "playing" the game. At $80 for two hours and up to four people, it returns great value.
Properties like Oceans Golf Club, Daytona Beach Golf Club and The Rough help make Daytona Beach a memorable family golf destination, in addition to its many other virtues.
For more information on Daytona Beach golf, visit DaytonaBeach.Golf.