One trait all outstanding golf destinations have in common is a diversity of course offerings, and Daytona Beach is no different. The area features Donald Ross designs, layouts that have hosted LPGA tournaments, and a course that is home to America's longest running mini-tour event. 
The Daytona Beach area is also home to Crane Lakes Golf & Country Club, a course the likes of which the game needs more of. At a time when many are advocating for ways to shorten the amount of time it takes to play, Crane Lakes has beaten everyone to the punch, without infringing on the spirit of the game.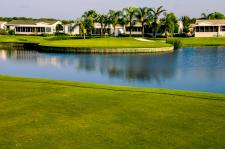 The Port Orange course is a par 66, home to eight par 3s and a pair of par 5s, but it's not a pitch-and-putt. Crane Lakes, which can comfortably be played in 3 ½ hours, offers a formidable test of golf, rewarding precision as much as raw power. 
Playing 5,186 yards from the tips, the course isn't long by conventional standards, but of the eight par 3s, all can play at least 152 yards, and the layout's most daunting test is the 435-yard par 4 third hole. 
Crane Lakes, which is always among Daytona Beach's best-conditioned courses and has a full practice facility, is relatively tight and there is no shortage of water. The key to scoring is finding the short grass off the tee. 
Players who are able to control their tee shots will be positioned to score well, having short to mid-irons into some of Central Florida's best greens. 
Traveling golfers love to have a signature hole to talk about, and Crane Lakes delivers with the par 4 14th. The 370-yard two-shotter features an island green and players often play their approach from a downhill lie, adding to the challenge.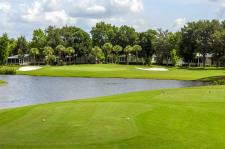 While 14 is the course's most photographed hole, the par 5 18th is the probably its best. Water plays up the left side of the 482-yard hole, so there is more than a whiff of danger on the tee, and for long hitters there is the option to go for the green in two, setting up a risk-reward decision that could decide a match. 
A trip to Crane Lakes promises golfers a good time and great conditions, and that's a hard combination to beat.