Lighten the mood on your next beach getaway with an evening of local comedy!
Big names have graced stages in Daytona Beach — comedic icon Jerry Seinfeld recently came to town and performed at Peabody Auditorium. Without a doubt, the Daytona Beach area attracts star-studded events and offers endless entertainment for residents and vacationers alike. 
While you can catch big talent at one of the area's larger entertainment venues, there are also slightly lower-key, less expensive options. If you're feeling like you need to get a good laugh or want to find evening entertainment on a whim during your next visit to Daytona Beach, check out these local comedy hot spots:
1.) Cinematique Theater
Every Tuesday at 8 p.m. from now through September, you can get your giggles out at Tuesday Improv at Cinematique! in Daytona Beach. For just a $5 cover charge, experience the comedy troupe called Random Acts of Insanity. With new material each week to ensure no two shows are ever the same, this interactive and impromptu show is a favorite of audience members. During the show, the group gets the audience's help by asking for key words and phrases, and then turns them into hilarious one-liners and full scenes. So head to the venue in historic downtown, grab a glass of wine and a snack, and sit back for an evening of entertainment.
2.) Bonkerz Comedy Club
Just a short drive away from the beachfront hotels in Daytona Beach, you'll find endless laughs in Port Orange at Bonkerz Comedy Club. Enjoy comedians that have been featured on major TV programs such as The Late Late Show, Good Morning America, Comedy Central's Up Next, FOX's Laughs and so many more. Guests ages 21 and up are invited to attend these shows, and to partake in the food and full-service bar in the club. Go ahead — go Bonkerz on your next vacation.
3.) Daytona Taproom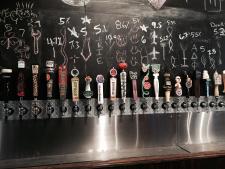 The Daytona Taproom may be best known for having more than 50 craft beers on tap, but it also has a sense of humor. Every Tuesday, the pub hosts a comedy open mic night for those brave enough to get up there. Plus, Daytona Taproom is known around town as one of the best burger joints in Volusia County — so don't miss out! Come enjoy a craft brew, a killer meal and a little local entertainment at no extra charge.
Whether you enjoy the spontaneity of amateur improvisation or the belly laughs of scripted stand-up, you'll find just the ticket to tickle your fancy in Daytona Beach. In fact, you can make a night of it! After the comedy show, head to one of the top six places to dance the night away in Daytona Beach, or try something new along the Daytona Beach Ale Trail. Explore all the activities that await — start planning your trip today!