When you're by the beach and you get a hankering for BBQ, you won't have to look far for a tasty solution in Daytona Beach. From old-fashioned, wood-smoked meats to innovative pulled-pork tacos, this area has it all. Whether you're craving Texas-style cooking, mustard-based Carolina gold sauce or a rack of ribs almost as big as your appetite, there's something for all ages to enjoy. For slow-smoked brisket, ribs, wings, chicken and more, hit these five top spots for BBQ in Daytona Beach. 
WHERE: 1320 West Granada Boulevard, Ormond Beach
PERFECT IF: You want a down-home, tasty BBQ platter.

Expect no frills or fluff here — Dustin's BBQ is old-fashioned, simple and delicious. While you're in the Daytona Beach area, you can choose from two locations: one in Ormond Beach and one down the road in Port Orange. Savor slow-smoked, St. Louis-style ribs, a smoked BBQ chicken platter or Dustin's famous BBQ-style wings. Or, get a half-pound of your choice of meat to go and enjoy a picnic at any of the nearby parks.
Daytona Pig Stand
WHERE: 1633 N US-1, Ormond Beach, FL
PERFECT IF: You want to grab a bite off I-95 on your way to the beach.

The perfect place to recharge after a visit to Teddy Morse's Daytona Harley-Davidson or if you're exiting I-95 for the beach. Ordering at the counter is fast and convenient. Try an offbeat option like Bourbon Stuffed Peppers, or go with traditional St. Louis Ribs, wood-grilled burgers, and fried catfish sandwiches. 
Bucket Heads Beachside BBQ
WHERE: 1760 Ocean Shore Boulevard, Ormond-by-the-Sea
PERFECT IF: Your family can't decide whether they want BBQ or tacos.

Situated just across from the Atlantic Ocean on the other side of the A1A, this BBQ joint serves up a variety of BBQ, tacos, sandwiches and sweet treats. Stop by after a day on the beach, or make it a pit stop as you pass through Ormond Beach. You'll enjoy a savory meal with a killer view of the ocean. And, top it all off with a serving of specialty Italian ice!
WHERE: 37 North Atlantic Avenue, Daytona Beach
PERFECT IF: You want taste + convenience.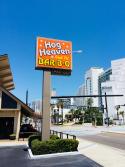 Located smack in the middle of the action of Daytona Beach near the Ocean Center and across from the Hilton Daytona Beach Oceanfront Resort, Hog Heaven BBQ has been a local favorite for over 30 years. The locally-owned and -operated establishment proudly serves up its signature smoked brisket, pulled pork and chicken — and it's all prepared under the careful eye of the same pitmaster who has been there since 1987.
WHERE: 1840 South Ridgewood Avenue, South Daytona
PERFECT IF: You're in the mood for award-winning BBQ.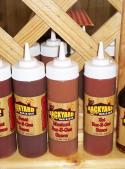 Just down the road in South Daytona, this local joint is known for authentic Southern BBQ and delicious homemade sauces. The menu features St. Louis-style ribs, fried okra and "backyard stew." Enjoy a generous portion of food at a great price. 
After fueling up with some of Daytona Beach's best BBQ, head to the beach for some post-meal fun in the sun or relaxation — but maybe wait awhile before you go swimming! From top-notch 'que to top-tier entertainment, Daytona Beach is full of discoveries around every corner. Start planning your trip today — and remember to bring your appetite!