People from all over the world come to play, stay and make memories in Daytona Beach — about nine million people annually, to be more precise. And they come with good reason! Daytona Beach has a number of legendary landmarks and some of the most naturally beautiful sights in the world. While you're here, make sure you grab a selfie to capture the moment forever and share it on social media so your friends back home can enjoy your adventures, too! Here are seven of the most iconic Daytona Beach destinations for the perfect photo-ops: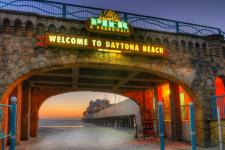 Just south of the pier on Daytona Beach, this world-famous attraction is a must-visit spot on your selfie checklist. Snap a photo as the family plays classic arcade games, catch a thrill on a ride or snacks on some pizza at the Daytona Beach Boardwalk and Pier.
Show your friends back home how you reached new heights in Daytona Beach at Ponce Inlet Lighthouse. Some of the best views in the area await at the top of a 203-step climb — your efforts will surely be rewarded as you soak in the spectacular waterfront. From the top or looking up from the lawn, it certainly makes the perfect backdrop for your family photo.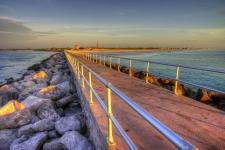 Head to the southernmost point of the Daytona Beach area for one of the best selfie stations out there. The Ponce Inlet Jetty juts out into the Atlantic Ocean and offers an up-close look at the region's marine life. Who knows — you may even be photo-bombed by a fish!
Walk in the steps of a true American legend at the Jackie Robinson Ballpark. Here, the groundbreaking baseball player was the first African-American to play in an integrated Major League Baseball spring training game — and where he forever changed history. Snap a shot with the statue erected in Jackie's honor!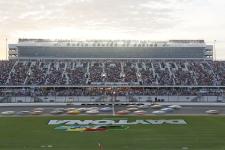 A series of selfies isn't complete without a shot of you and your family at the "World Center of Racing." Whether you take your picture in Victory Lane by way of a track tour or inside the Motorsports Hall of Fame, you'll be able to sense the unmistakable energy of racing heroes who have been here before.
6.) Daytona Beach at sunrise
There's possibly nothing more pure or breathtaking than Daytona Beach at dawn. Whether you roll out of bed and onto your hotel balcony or go for an morning stroll in the sand, it's worth the early wakeup call to experience the sun rising over the Atlantic Ocean. Although it's nice to unplug and be truly present for the sunrise, it's OK to snap a quick selfie in order to share Daytona Beach's natural beauty — your friends will thank you.
We can't wait to see the adventures you have in Daytona Beach, so be sure to share them! Find us on Facebook and tag @DaytonaBeach, follow us on Twitter and tag @DaytonaBeachFun, and be sure to tag us on Instagram using @DiscoverDaytonaBeach. And, use the hashtag #DaytonaBeach when documenting your excursions for a chance to be featured on our page. Happy selfie-ing!