When you think "restorative vacation," what image comes to mind? Likely, it's some variation of lounging on a beach chair in the sun with a lighthearted novel in hand and absolutely no plans. Sometimes that pure relaxation — with nowhere to be and no set calendar — is exactly what we need to feel rested and revived. However, a restorative vacation looks different for different people — total wellness is not a one-size-fits-all scenario. 
In Daytona Beach, you're encouraged to explore new activities and different spaces and routines, all with the goal of finding your best, most balanced self. Ahead, we'll walk through a few ideas on working wellness into your vacation so that you may return to the "real world" feeling deeply refreshed — and ultimately incorporate those habits and feelings into your daily life.
#1: Try a new morning ritual.
Your favorite vacation habit may be sleeping in with absolutely no alarm set — and that is totally acceptable! Life is hard, and a break is deserved. But in a place like Daytona Beach, you might find that keeping the curtains open and allowing the sunrise to wake you up naturally is a fulfilling and worthy wake-up call. Besides, when you are staying oceanfront with a private balcony, it's hard to be mad about the 6 a.m. view!
Alternatively, maybe your new morning ritual includes sipping hot tea or coffee while journaling, chatting with your significant other, or taking a few minutes to simply reflect on what you're thankful for. Challenge yourself to avoid looking at your phone for the first hour you're awake — that alone can do wonders for stress levels!
#2: Make yourself move!
The benefits of regularly moving your body are countless, ranging from physical fitness to mental health. It's easy to make exercise fun while you're in Daytona Beach. Go for a long walk on the beach, or pick up the speed with a jog. Rent a bikeand ride directly on miles of the area's hard-packed, white-sand beaches. Or, head to one of the area's many state parks or biking trails. It's a fun way to explore a new area while getting some blood pumping!
You can even take your fitness goals to the water: try surfing, swimming, paddleboarding, kayaking, throwing a frisbee and so many other activities! It doesn't matter what you do, as long as you're soaking in the salt air, having fun and burning a few calories while you're at it.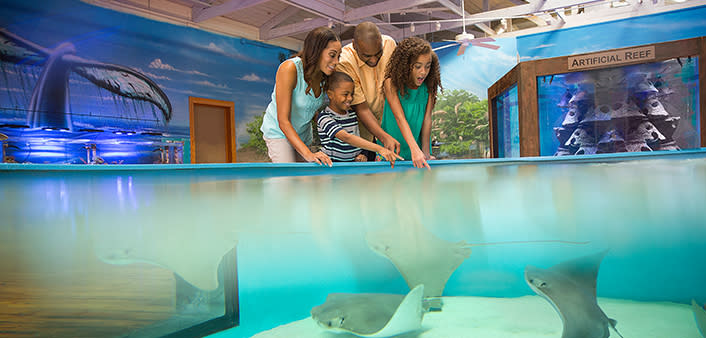 #3: Ignite your inner child.
One of the best ways to relieve stress is to recall a time when you didn't have it. Remember the days when your biggest concerns were breaking a crayon, or losing a game of hide and seek? Obviously, being an adult comes with its own world of responsibility — and letting those responsibilities go temporarily may be exactly what you need to feel restored!
Feel excitement bubble up in your chest as you rise above the water on a parasailing journey. Lean into the sheer childlike joy of running headfirst into the waves. Rediscover the thrill of petting a stingray for the first time. Options are endless for all ages here — the young, and the young at heart.
#4: Thoughtfully fuel your body.
Food is the fuel your body needs, and filling it up with fresh, whole foods is critical to a healthy lifestyle. Allow yourself to indulge in a treat — especially during a vacation — and maintain moderation throughout the year. During your stay in the Daytona Beach area, eating healthy doesn't have to be totally tasteless! Opt for delicious broiled or baked fresh seafood instead of fried, trade the starchy side dishes for grilled veggies, and swing by one of these places for a health-filled meal:
Kale Cafe:Opens a New Window. Grab a papaya-chia smoothie, a "Mean Green" juice or an organic veggie burger from this specialty juice bar and vegan-cuisine hot spot — now available at two locations!
ADDRESS: 116 North Beach Street, Daytona Beach and 1812 Dunlawton Avenue, Port Orange
Dancing Avocado Kitchen:Opens a New Window. Savor house-made hummus dip, a seasonal salad or a soup that will warm your soul — you can't go wrong with any of the fresh choices at this downtown Daytona Beach restaurant. 
ADDRESS: 110 South Beach Street, Daytona Beach

#5: Focus on the family
For many, total wellness means resetting the family dynamic. Maybe you give up screens/technology for a day; perhaps it's playing a new family game; maybe you spend a few minutes at dinner all saying one thing you loved about the day. Stepping away from the busy schedules and daily demands of school and life can be wonderfully healing, rewarding and downright fun for the whole family. Be intentional with your time — whether it's visiting a family-friendly museum, building a sandcastle together or just hanging out by the pool, relish the time you get to spend with the ones you love. After all, that can be the most happy and healthy feeling of all!
Ready to plan your wellness-focused getaway? Book your stay in Daytona Beach now!