WHOG 95.7 FM
Official Biketoberfest® Radio Station
October 17-20, 2024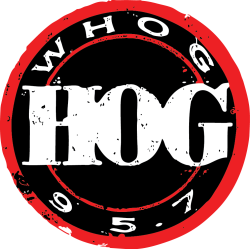 Rock with The HOG during Biketoberfest®!
WHOG 95.7FM, 'The HOG' is Daytona's Rock Station and has been the soundtrack of  Daytona motorcycle rallies for years. Tune into The HOG to find out what's going on and where to go during Biketoberfest®. Or, join The HOG at many of the biggest and best Biketoberfest® events, concerts, and parties...as we broadcast live on location.
The HOG plays a wider variety of rock from rock's greatest artists including AC/DC, Motley Crue, Guns N Roses, Nirvana, Aerosmith, Soundgarden, and more. The HOG daily line-up features 'Crash and Burns' in the morning, Rhoads Radio with Chris Rhoads during midday, Riggs in the afternoon, and Red Zeppelin on the night shift.  
 "95.7 'The HOG Program Director Dallas Reese says, "The HOG is extremely excited to once again be entertaining and informing thousands of bikers and listeners during one of the nation's truly great motorcycle events. HOGtober is a big month, the weather is milder and great for riding and enjoying the area. The biker community has always been a big part of The HOG...and we look forward to showcasing our community and what it has to offer not only for these 4 days but year round!"
Listen to The HOG:

Rock lives on The HOG 95.7!