Ocean Center Daytona Beach
Convention Center
The Ocean Center is a premier convention, entertainment and sports complex located in the heart of the Daytona Beach resort area just 400 feet from the Atlantic Ocean. It's the fifth largest such center in Florida and has 205,000 square feet of meeting space and more than 2,500 parking spaces.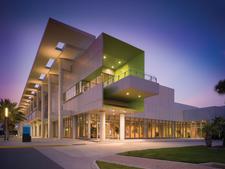 The world-class Ocean Center meetings and special events center has a full spectrum of services to complement its facilities, including decorators, electrical contractors, a full service box office/business center and more. Over 2500 parking spaces are available on site at both a parking garage and surface lots. The Ocean Center's exclusive in-house caterer offers fine dining, box lunches and everything in between.

For up-to-date information on meetings, conventions, concerts, exhibitions and more at the Ocean Center, visit the Ocean Center Events Calendar.
Ocean Center Square Footage
Prime Meeting Space: 205,000 square feet
Exhibit Space: 164,000 square feet, interior; 100,000 square feet, exterior; utilities every 30 feet 
Arena: 42,000 square feet; 9,600 seats; 45-foot ceiling
Meeting Rooms: 32,000 square feet; 36 breakout rooms; executive board room; VIP suite; easy sound and lighting controls
Banquet Hall: 12,000 square feet; banquet seating for 850