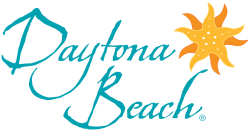 Daytona Beach – Christmas Celebrations, Fun Facts & What's New!

DAYTONA BEACH, Fla. – (October 10, 2019) - The Daytona Beach area offers 23 miles of white sand beaches along one of the most iconic and beautiful stretches of Atlantic shoreline in Florida. And, this holiday season it's brimming with "Christmas Celebrations," spectacular displays of twinkle lights, concerts, ballets and small gatherings of good cheer. Discover a few "Fun Facts" and "What's New" at the World's Most Famous Beach with this quick guide:

Christmas Celebrations
November 15 - January 15: Christmas Spectacular Holiday Home Tour at Stetson Mansion
November 22 - January 1 : Magic of Lights Holiday Display at Daytona International Speedway
November 30: Holiday Tree Lighting and FREE Kaleb Lee Concert at the Ocean Center
December 3-13: Family Nights with Real Reindeer at ONE DAYTONA
December 4: A Magical Cirque Christmas at Peabody Auditorium
December 4-6: Christmas Candlelight Concerts at Stetson University
December 6-8: A Northern Lights Christmas Gala at The Casements
December 7: Christmas Boat Parade on the Halifax River
December 7: Ponce Inlet Pancake Breakfast & Christmas Parade with Santa
December 7-8: Nutcracker Ballet at Peabody Auditorium
December 8: A Florida Christmas Remembered at Barberville Pioneer Settlement
December 14: A Very Merry Old Fashion Christmas at Ponce Inlet Historical Museum
December 14: A Holly Jolly Christmas Parade in downtown Daytona Beach
Fun Facts
Did you know the tallest lighthouse in Florida is Ponce Inlet Lighthouse and just minutes away from Daytona Beach?
Did you know the Smithsonian-affiliated Museum of Arts & Sciences in Daytona Beach contains a piece of Coca-Cola history? Actually, quite a vast collection! But the standout piece is one of two of the original 1915 bottles designed by Chapman S. Root.
What's New
Brushes, Blues and Bites Inaugural Art Festival April 4-5, 2020
ONE DAYTONA is hosting its inaugural art festival - Brushes, Bites & Blues in partnership with Gallery 500.The juried and non-juried outdoor fine art show welcomes residents and visitors to experience a weekend of art and culture highlighted by multiple fine artists and fine craft artisans, live entertainment and a vintage car show. Attracting fine artists nationwide, ONE DAYTONA will award $15,000 in cash. This event will be FREE and open to the public inviting savvy collectors and shoppers from throughout the region.
Welcome to Rockville May 8-10, 2020
After welcoming sold-out crowds of 90,000 the past three years, Florida's biggest rock music festival experience will move to its new home in Daytona Beach at Daytona International Speedway, May 8-10, 2020. The 10th anniversary celebration of Welcome to Rockville will feature a star-studded line-up with the World Center of Racing as the backdrop.
Coke Zero Sugar 400
August 29, 2020 The Coke Zeros Sugar 400 is moving from the July 4th holiday weekend to August 29 in 2020. While race day takes place on August 29, Daytona International Speedway celebrates all weekend long. From August 27-29, fans enjoy the festivities and exploring the World's Most Famous Beach. Be a part of one of the most anticipated races of the season as the stars and cars of the NASCAR Cup Series battle for victory under the lights. The Coke Zero Sugar 400 is one of the cornerstone events on the NASCAR schedule. Serving as the regular-season finale, the 160-lap, 400-mile race will now provide one last exciting opportunity for drivers to qualify for the NASCAR playoffs. 
Please visit our website for more DaytonaBeach.com for more Christmas happenings, fun facts and new developments.

About the Daytona Beach Area
Experience endless adventures in the Daytona Beach area, a destination comprised of eight distinct communities offering visitors the perfect beach base camp to explore East Central Florida. Choose thrilling activities or embrace the tranquility of days spent on 23 miles of world-famous white-sand beaches. Recognized worldwide for a few annual events including Bike Week, Biketoberfest®, the Rolex 24 At DAYTONA, the DAYTONA 500 and the Coke Zero Sugar 400 which moves from July to August 29 in 2020, Daytona Beach's famed heritage also claims the headquarters of LPGA and NASCAR -- and is home to Daytona International Speedway, the 'World Center of Racing.' With more than 12,000 beds, the destination boasts accommodations for all lifestyles and budgets from 4-star resorts to hotels, B&Bs and everything in between. Ranked #1 in Travel Channel's "Top 10 Attractions in Florida, and named a TripAdvisor Best Weekend Getaway in Northeast Florida, TripAdvisor also named Daytona Beach to its "10 Most Affordable Beach Vacations on Florida's East Coast" and "25 Most Popular Summer Vacation Rental Spots in the US." Visitors can enjoy experiences beyond the beach by choosing from a surprising list of outdoor adventures, family-friendly attractions, arts and cultural venues and an eclectic culinary scene. With expansive beaches ideal for strolling, swimming and surfing, it is no surprise Daytona Beach was chosen as a Best Florida Attraction and Best Spring Family Beach Break Destination in the Top 10 Best Readers' Choice travel award contests sponsored by USA TODAY. To receive a complimentary Destination Guide, find a place to stay, or book your next adventure, visit DaytonaBeach.com. Social Media: Facebook.com/DaytonaBeach, Twitter.com/DaytonaBeachFun, Instagram.com/DiscoverDaytonaBeach, YouTube.com/VisitDaytonaBeach and #LoveDaytonaBeach