Racing in Daytona Beach
Since 1929 when Major Henry Segrave set his final land speed record on the white sandy beaches of the "World's Most Famous Beach," the Daytona Beach area has become synonymous with the high-octane sport of racing. Daytona International Speedway, the world's first motorsports stadium, hosts the area's most popular races:
Ferrari World Finals (Dec. 1-4, 2016)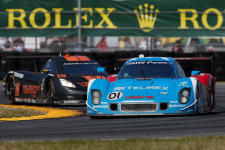 Rolex 24 At Daytona (Jan. 28-29, 2017)
Speedweeks and DAYTONA 500 (Feb. 18-26, 2017)
Bike Week motorcycle races (Mar. 10-19, 2017)
Coke Zero 400 (Jun. 30-Jul. 22, 2017)
Each year, millions of visitors descend upon Daytona Beach and the surrounding areas to witness racing history in the making. Even when there aren't big events happening, race fans can visit one of the many speedway parks in the area.
National Racing Landmarks and Historical Museums
A national racing landmark, Volusia Speedway Park on State Road 40 in Barberville will open in January 2017 and is home of the Dirt Car Nationals every February. The New Smyrna Beach Speedway offers sanctioned NASCAR races throughout the year. And various historical racing museums such as the Living Legends of Auto Racing in South Daytona entertain motorsports enthusiasts year-round. Be sure to add a self-guided walk through Birthplace of Speed Park in Ormond Beach for historical perspective.
VISIT FLORIDA Daytona Beach-Based Racing Team
With VISIT FLORIDA Racing based in Daytona Beach, we love to cheer on our No. 90, a Chevrolet Corvette Daytona Prototype that had its best season on record in 2014. So whether you're a race fan, car buff or just enjoy the vibrant atmosphere of a motorcycle event, Daytona Beach is the place for you. 
Enewsletter Sign Up
Email Address...