Local Sports Organizations
Bethune-Cookman University Athletics
Support the famous Bethune-Cookman Wildcats at year-round collegiate sporting events including basketball, football, baseball, softball, track, cross-country, volleyball, tennis and golf.
Daytona Beachcombers Running Club
The mission of the Daytona Beachcombers Running Club is to nurture a sense of community and camaraderie within the club through running and social events; to offer opportunities for guidance, coaching, and development to members; and to promote the benefits of a healthy running/walking lifestyle for adults and young people.
Daytona Beach Track Club
The Daytona Beach Track Club promotes wellness by providing and encouraging quality running activities and events, both recreational and competitive. Founded in 1973, now with over 500 members, the Daytona Beach Track Club is one of the oldest and largest running clubs in Florida. DBTC members are runners, joggers, and race walkers of all ages and levels from beginners to the very competitive.
Daytona Tortugas, Professional Baseball Team
Cheer on our own Daytona Beach Tortugas! Winners of the 2004 and 2008 Florida State League Championships, the Tortugas play 70 home games April through September.
Video: Catch Daytona Tortugas baseball fever!
Daytona State College
Come cheer on the Daytona State Falcons as they compete in varsity basketball, baseball, softball, golf, swimming and diving. Daytona State college facilities include a 5,500 square foot state-of-the-art fitness center, a 1,000 seat gymnasium, a baseball field and a 25-yard by 25 meter indoor competitive pool. Daytona State is a member of the NJCAA Mid-Florida Conference.
Deltona Adult Soccer League
In partnership with the City of Deltona, the Deltona Adult Soccer League is for all Central Florida soccer enthusiasts of all ages. Adults play 6 V 6 in Winter (Jan/Feb) & Summer (June/July) to continue enjoying the sport they love at a recreational level. 
Embry-Riddle Aeronautical University Athletics
Enjoy outstanding intercollegiate sports at Embry-Riddle. The Eagles compete in NCAA Division II and the highly competitive Sunshine State Conference. Embry-Riddle competes in baseball, basketball, cross country, golf, lacrosse, rowing, soccer, softball, tennis, track and volleyball. A highly acclaimed program, Embry-Riddle has won 104 conference championships since 1995.
Florida State League
The Florida State League was originally established as a Class "D" League in 1919 with baseball teams in Bartow, Bradenton, Lakeland, Orlando, Sanford and Tampa. The League currently has 12 teams: six in the West Division and six in the East Division. All teams play a 140-game schedule with half the games at home. The season is split with the All-Star Game following the completion of the first half of the season. The Florida State League, with its tropical climate and major league type facilities, is well established as one of the finest leagues in minor league baseball. It's tagline is: "Where the Major League Stars of Tomorrow Play today".
Halifax Rowing Association
"The mission of the Halifax Rowing Association is to develop, promote and expand recreational and competitive rowing programs for the community by providing a boathouse, appropriate related resources and opportunities. Visitors can sign-up for individual lessons, introductory and progressive workshops and clinics, or short-term and long-term memberships! Come see what life is like out on the water!"
LPGA
Headquarters of the Ladies Professional Golf Association, Daytona Beach also boasts two championship golf courses at LPGA International. The 'Hills Course' is an Arthur Hills design punctuated by tree-lined fairways and natural marshlands. The 'Jones Course' is a links-style, Rees Jones layout. Both courses host the LPGA Qualifying School each winter.
NASCAR
The world-famous National Association of Stock Car Auto Racing (NASCAR), which was founded in Daytona Beach, remains headquartered here to this day. This sanctioning body holds various types of races in locations world-wide, including two Monster Energy NASCAR Cup Series™ races at Daytona International Speedway - the Daytona 500 and the Coke Zero 400 Powered by Coca-Cola.
New Smyrna Speedway
Catch the racing thrills at Florida's fastest short-track, located just four miles west of I-95 in New Smyrna Beach. The Speedway offers southern-style racing every Saturday night, mid-March - November. Gates open at 6 p.m.
Richard Petty Driving Experience
Experience Daytona International Speedway's 2.5-mile track at speeds of more than 150 mph! Prices include a 30-minute track tour and admission to Daytona 500 Experience. No reservations are required for the 'Ride Along" program. Please call ahead for available dates and rates.
Skydive DeLand
Experience the rush of a tandem skydive from a facility that hosts thousands of skydivers each year from around the globe! No experience is necessary, but certain restrictions apply. Reservations are preferred.
Stetson University Athletics
The famous Stetson Hatters compete throughout the year in baseball, basketball, crew, cross-country, golf, soccer, softball, tennis and volleyball.
University of Central Florida
The University of Central Florida (UCF) is a thriving preeminent research university located in metropolitan Orlando. With more than 64,000 students, UCF is one of the largest universities in the U.S. The UCF Knights participate in sports at the NCAA Division 1, American Athletic Conference level in baseball, basketball, football, golf,  soccer,  tennis, cross country, rowing, softball, track & field, volleyball.
USTA Florida Section
This organization is based at the City of Daytona Beach's Florida Tennis Center Daytona Beach, a state-of-the-art facility offering 24 clay Hydro-Courts (with 20 lighted for night play), a grandstand court with 1,000 permanent seats, a 6,000 square foot building with full-service pro shop, tennis center office, locker rooms, plus 3,500 square feet of office space. USTA Florida Section.
Volusia Speedway Park
Come experience Saturday night dirt track racing, as well as oval go-kart racing on clay. The pits and grandstands open at 5 p.m. and racing starts at 7:30 p.m.
Host a sporting event in Daytona Beach! For more information or to submit an RFP,
please contact CVB Sports Business Development Manager, Brandon Little.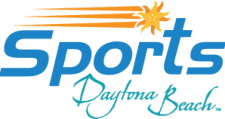 CONTACT:
Amber White
Convention Services Coordinator
(386) 255-0415, ext. 117