Daytona Bike Week - 78th Anniversary!
March 8-17, 2019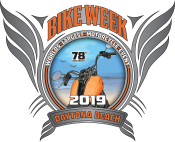 Daytona Bike Week, the world's largest motorcycle event, is celebrating 78 years in 2019!
It's an event you won't want to miss. This year's 10-day event proves it's high-octane with street festivals, concerts, motorcycle races, bike shows, rallies, manufacturer showcases and more. Motorcycle enthusiasts from around the world enjoy spring riding in Daytona Beach along historic Main Street to Midtown, Scenic A1A Highway and through the best of old Florida, the Ormond Beach Scenic Loop. The celebration continues at Daytona International Speedway, Bruce Rossmeyer's Destination Daytona, and the U.S. 1 corridors in Daytona Beach and Ormond Beach.
Looking for a place to park your trailer? Click here to get our list of available places.
Get even more excited and watch this video! Then visit OfficialBikeWeek.com and book your stay for Daytona Bike Week.