As a kid, some of the very best memories are formed at summer camp. You can make new friends, dabble in a new interest or try your hand at a sport without committing to it for a year. School's out, but the learning doesn't have to stop! 
Whether you have a local kid looking for something to do during the day, are a seasonal visitor hoping to help your child connect to friends in a new place, or are just passing through on vacation, there are options to meet all of your summer camp needs in the Daytona Beach area. Introduce your child to mixed-media art, enjoy a pay-by-day dance camp, let them explore nature and play outside in a recreational camp — the options are endless. Here are just three of the many summer camps for kids available to you in Daytona Beach:
June 10-14 & July 15-19
Where better to foster a passion for golf than at one of Florida's premier golf courses? Junior golfers can experience not just one, but a pair of four-star courses as rated by Golf Digest. LPGA International features courses that are entirely distinct from each other in design, but are suitable for all ages and skill levels. Campers can enjoy the course's extensive practice facility, which includes 80,000 square feet of natural turf and 10 target greens.
Junior golf campers can expect hands-on instruction from certified PGA professionals, and a PGA camp curriculum that focuses on developing the full swing, short game, and knowledge of rules and etiquette — all while having fun! Both half-day (3 hours) and full-day (5 hours) camps are available, with placement depending on skill level and age. The camp is dedicated to inspiring each and every camper by supporting them, encouraging them and helping them to reach their full potential.
Various weeks from May 27–August 16
Kids ages 7–16 love to learn at Pure Life Surf School Summer Camp! Founded by owners who grew up surfing in Daytona Beach and Ponce Inlet, this camp is a local favorite every year, though you don't have to be a local to participate. During camp, kids learn surfing skills and technique, environmental knowledge and awareness, and surfing etiquette like how to surf when in a crowded area. The regular camp runs from 9 a.m. to 12:30 p.m., with an extended-day option until 1:35 p.m. available, as well.
As a professional and experienced surf school, Pure Life prides itself on tailoring lessons to each camper's skill level and experience. This includes verbal coaching, plenty of demonstrating, and individual critiques and lessons in and out of the water. Because safety is the camp's top priority, there is a four-to-one student-to-instructor ratio — that way, each camper gets individualized attention and personal instruction. And, all instructors go through the comprehensive Pure Life Instructor Training Program and are CPR and First Aid certified. Visit the website to learn more about why Pure Life has a 100% 5-star rating on TripAdvisor!
Various weeks from June 10–August 2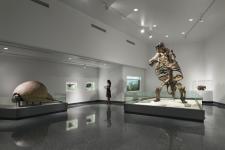 Back for another great year, the annual Summer Learning Institute offers fun, hands-on education in one of the area's most prestigious establishments. The Museum of Arts and Sciences (MOAS) is a Smithsonian-affiliated museum, and the summer program offers integrated learning experiences in art, science and history. From learning how to make Claymation movie shorts to exploring the era of dinosaurs, and from chemistry experiments to photography lessons — each camp offers a vibrant atmosphere for learning and growing. Whether your child is interested in paleontology, architecture, physics or pottery, he or she will enjoy a fun and fulfilling week at MOAS.
All classes are taught by education professionals and are available to kids ages 4 to 13. Half days or full days are an option, but make sure you register soon — some of the camps have already filled up!
In addition to these wonderful camps, there are a number of STEM, pay by the day, theater, art and nature-themed camps for kids living in or visiting the Daytona Beach area. So, whether you're looking for an engaging daytime activity for your kids or are on vacation and looking for a few enriching hours every day, you'll find what you're looking for in Daytona Beach.