Daytona Beach has a reputation as a car and motorcycle aficionado's heaven, but there's so much more to see and do in this tourist mecca. Daytona Beach is great food, fun shops, multiple beaches, tasty beer, picturesque piers, one of a kind sports attractions and museums.These are a few of the great things, MUST SEES, and family attractions, I discovered in Daytona Beach. This is Part 2 of my Daytona Beach series.
1. Stroll America's original beach
I don't know about you but this Canadian girl needs beach time and the lull of the waves to heal the demands of work, plus the crazy extremes of weather in the fall and winter in southern Ontario. So obviously you start any day in Daytona Beach with a stroll along the beach.
The oceanfront beach strip is accessible on foot or by car in many areas. And accessible also by wheelchair in most spots. In fact, this is one thing that jumped out at me almost everywhere we went in Daytona Beach. The accessible signage was clear in many places. That matters to me. It matters to seniors too and sandwich generation parents caring for their Moms and Dads who need help travelling sometimes. If you start the day relaxing on the beach and the weather is gorgeous you might never want to leave. But there's a lot to see so try to pace yourself. Click here to see a photo!
2. Breakfast at Crabby Joe's Deck and Grill at Sun Glow Pier
The pier is wide enough to walk or stroll, regardless of the size or ability of your family members.
Popular gossip here is that famous drivers all stay nearby when they are in town for the Speedway. For a time Crabby Joe's which has been around for a lot of years dropped the breakfast menu and just stuck to the rest of their offerings (which are pretty tasty by the way) but some of the racing families and wives complained that their favourite breakfast spot was no longer serving eggs and grits and all the southern breakfast treats they'd come to enjoy. Crabby Joe's took heart and has breakfast on the menu for good now.
Stroll along two iconic wooden piers in Daytona Beach. Enjoy the view, snap some pictures. Maybe you even want to take some time to fish off the end of the pier. That's all possible here. email: psunglowfishing@cfl.rr.com for more information. Click here to see a photo!
3. SKYDIVE Deland 
Take a short drive to Deland. There's more than enough to keep you busy here. First stop. Skydive Deland. The place where tandem skydiving was born. It seems like a sleepy little spot but if you thought that you'd be wrong. This is a space where military trains skydivers and where parachutes are tested. It is also one of the best spots to skydive. (No, I didn't try it, but many others in the group I travelled with had done tandem skydiving) Tandem skydiving means that you are attached to an experienced skydiver. Maybe you want to try it once for your birthday – something a lot of people do. Or maybe you want to give it a shot when you are in the area. There's breakfast here too. Click here to see a photo!
4. Downtown Deland
West Volusia County seems unassuming but downtown Deland has a wild range of shops and art and history on display that it is really a photographer's delight. The murals, statues and beautiful buildings are infused with history here. We didn't have long enough to stop to sample food but there are dozens of restaurants and Mom and Pop shoppes that are quaint and really unique. The art is amazing and I am told that certain sculptures are switched and replaced on occasion. Which adds to the vibrant community feel.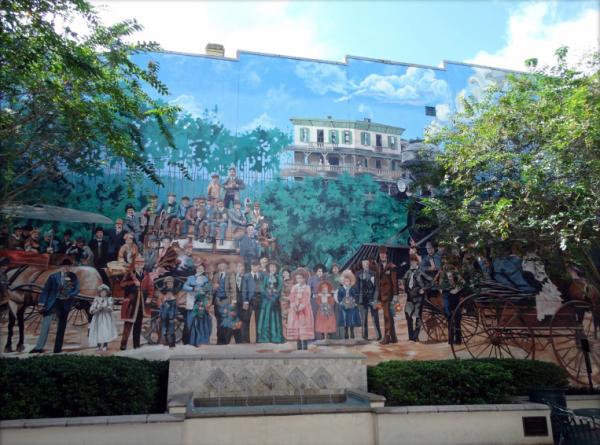 5. New Smyrna Beach Brewing Co.
New Smyrna Beach Brewing Co. is a crazy adorable microbrewery with some truly clever blends. On the day we visited everyone got a flight of their current beers on tap. The Pumpkin flavor was one that resonated with most of our group. I personally loved the Coronado Beach Cream Ale. BUT don't forget the root beer. It might be the best root beer you ever taste.
This was a really great way to start my week! Note the serving paddle is a shark and some others were surfboards. The space is also decorated in a beach theme and there are numerous surfboards hanging up covered in chalkboard paint so that the bartenders can scrawl the specials of the day on a surfboard. Fun! Click here to see a photo!
Special thanks to Paula Schuck of ThriftyMommasTip.com for her blog, 11 things to do in Daytona Beach. Read it to discover what made the list from six through 11.