In addition to its wide beaches and water-filled adventures, Daytona Beach is brimming with cultural gems, a vibrant arts scene and exquisite live performances. One of the best venues for soaking in a show is the Peabody Auditorium, located right in the heart of Daytona Beach not far from the Main Street Pier. On your next visit to the area, indulge your artistic side by treating yourself to dinner and a show! 
LOCATION: 600 Auditorium Boulevard, Daytona Beach
ABOUT THE THEATER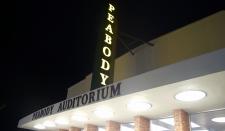 Considered the crown jewel of the Daytona Beach entertainment district, this 2,521-seat auditorium offers more than 200 performances annually. From legendary musicians like Elvis Presley, Frank Sinatra, Louis Armstrong and James Taylor to iconic performers like Margot Fonteyn, Gregory Peck and Jerry Seinfeld, the Peabody Auditorium has hosted its fair share of stars since its opening and dedication in 1949. Now considered one of Central Florida's preeminent venues, the theater hosts thousands of audience members each year who continue to laugh, cry and remain on the edges of their seats.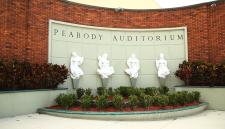 Peabody Auditorium is also home to the Daytona Beach Symphony Society, a nonprofit group founded in 1952 that is committed to bringing Daytona Beach the very best orchestras, opera, dance companies and much more. Through its efforts, a number of world-renowned musical ensembles have made their way to Daytona Beach. Acclaimed Broadway musicals and prestigious orchestras like the London Symphony Orchestra have all graced this stage, and many more will in the new season.
UPCOMING SHOWS 
February 24: Legendary Ladies of Motown 
Enjoy an unforgettable evening of non-stop energy and crowd-pleasing hits, courtesy of Martha Reeves & The Vandellas and Mary Wilson of The Supremes. 
March 1: The Illusionists 
The world's best-selling magic show is bringing its magic and mystery from Broadway to Daytona Beach and is ready to wow audiences with mind-blowing acts.
March 4: National Symphony Orchestra of Cuba 
Cuban heritage is deeply woven into the fabric of the Daytona Beach area, and this symphony orchestra is the perfect way to appreciate Cuban culture and influence.
April 1: Jersey Boys 
It's no April Fool's joke — this Broadway smash-hit about the life and music of Frankie Valli and The Four Seasons will be taking the stage at the Peabody Auditorium for one night only.
April 9: Rogers & Hammerstein's Cinderella 
This Tony Award®-winning musical from the creators of The Sound of Music will soon sweep Daytona Beach visitors and residents off their feet with this contemporary and romantic rendition of a beloved classic.
May 15 & 16: Chicago 
Come for the ol' razzle-dazzle of Broadway's #1 longest-running American musical. You'll be in for an entertaining tale of fame, crime and all that jazz — don't miss out! 
These events are just a sampling of the entertaining evenings set to come to Peabody Auditorium — be sure to check out the full line-up of events when you plan for your next beach escape to Daytona Beach!