In addition to its wide beaches and water-filled adventures, Daytona Beach is brimming with cultural gems, a vibrant arts scene and exquisite live performances. One of the best venues for soaking in a show is the Peabody Auditorium, located right in the heart of Daytona Beach not far from the Main Street Pier. On your next visit to the area, indulge your artistic side by treating yourself to dinner and a show! 
Location: 600 Auditorium Boulevard, Daytona Beach
About the theater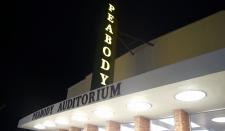 Considered the crown jewel of the Daytona Beach entertainment district, this 2,521-seat auditorium offers more than 200 performances annually. From legendary musicians like Elvis Presley, Frank Sinatra, Louis Armstrong and James Taylor to iconic performers like Margot Fonteyn, Gregory Peck and Jerry Seinfeld, the Peabody Auditorium has hosted its fair share of stars since its opening and dedication in 1949. Now considered one of Central Florida's preeminent venues, the theater hosts thousands of audience members each year who continue to laugh, cry and remain on the edges of their seats.
Peabody Auditorium is also home to the Daytona Beach Symphony Society, a nonprofit group founded in 1952 that is committed to bringing Daytona Beach the very best orchestras, opera, dance companies and much more. Through its efforts, a number of world-renowned musical ensembles have made their way to Daytona Beach. Acclaimed Broadway musicals and prestigious orchestras like the London Symphony Orchestra have all graced this stage, and many more will in the new season.
Upcoming Shows 
January 9: Something Rotten
Set in 1595, this hilarious smash tells the story of Nick and Nigel Bottom, two brothers who set out to write the world's very first musica! 
January 12: Tosca 
Puccini's Tosca is a story about an epic love triangle between opera singer Floria Tosca, artist Mario Cavaradossi, and the power-hungry chief of police, Baron Scarpia. The opera includes live music by a 40-piece all American orchestra, several soloists who made their much celebrated debut last season, and English supertitles.
February 3: Cirque Musica's Crescendo
Crescendo will feature spectacular international cirque artists performing a theatrical production in artistic union with the Jacksonville Symphony for an afternoon of beauty, thrills and majesty, accompanied by a variety of popular classical music selections, including Ravel's Bolero, Tchaikovsky's 1812 Overture, the Flight of the Bumblebee from Tsar Saltan by Rimsky-Korsakov, and many more.
March 21: The Sound of Music
The spirited, romantic and beloved musical story of Maria and the von Trapp Family will once again thrill audiences with its Tony® and Grammy® award-winning best scores, including "My Favorite Things," "Do-Re-Mi," "Climb  Ev'ry  Mountain," "Edelweiss" and the title song. 
March 31: Buffalo Philharmonic Orchestra 
The GRAMMY® award winning Buffalo Philharmonic returns to The Peabody for a spectacular season finale with a matinee that will include Brahms' Piano Concerto No. 2 with the fabulous Fabio Bidini, in his third appearance here in Daytona Beach. 
May 14: Kinky Boots
Broadway's huge-hearted, high-heeled hit! With songs by Grammy® and Tony® winning pop icon Cyndi Lauper, this joyous musical celebration is about the friendships we discover, and the belief that you can change the world when you change your mind. 
These events are just a sampling of the entertaining evenings set to come to Peabody Auditorium — be sure to check out the full line-up of events when you plan for your next beach escape to Daytona Beach!

Enjoy a look at everything Daytona Beach has to offer and start planning your next trip! Download our free official visitors guide or sign up for our e-newsletter.