Memorial Day marks the unofficial start to summer. And in Daytona Beach, that means mornings paddling the waterways, afternoons filled with endless waterfront adventures, and evenings of live music at the Daytona Beach Bandshell. But between the oceanfront dining and family fun, take a moment to remember the men and women whose sacrifices allow us to enjoy carefree, sun-soaked beach days. 
Memorial Day is a time when we collectively pause to appreciate those who have died to preserve the freedoms we enjoy as Americans.
Ormond Beach Performing Arts Center
A focal point of Laying of the Wreath and Tolling of the Bells will be held at the opening of the Patriot's Day Concert. The guest speaker will be Captain Hugh Patrick Everly, Commanding Officer Embry-Riddle NROTC. The Daytona Beach Concert Band will perform a special patriotic concert to honor our nation's troops, veterans, and military families.  
WHAT: Laying of the Wreath, Tolling of the Bells, Patriots Day Concert
WHEN: Sunday, May 27
ADDRESS: Ormond Beach Performing Arts Center, 399 US-1, Ormond Beach
There are several places in the Daytona Beach area where you can pay homage to these fallen heroes and learn more about our nation's military. If you plan on visiting over Memorial Day weekend, be sure to call before you visit any attractions, as operating hours may vary due to the holiday.
Veterans Memorial Museum Deltona
Located about 30 miles southwest of Daytona Beach in Deltona, the Veterans Memorial Museum exists to honor everyone who serves or has served in the United States military. In addition to viewing monuments listing the names of those who have been lost in battle or are currently serving overseas, you can view an authentic U.S. Army AH-1 Cobra Helicopter. Witness a piece of history up close and personal in the park.
ADDRESS: 1921 Evard Avenue, Deltona
PHONE: (386) 789-8247
Ormond Memorial Art Museum & Gardens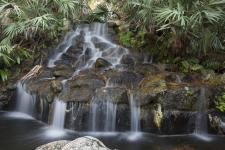 Wander through gallery exhibits, marvel at the works of prominent international and local artists, and stroll through the lush gardens at Ormond Memorial Art Museum & Gardens. The museum was founded in 1946 as a living monument to equality and artistic freedom, and to commemorate the valiant service of World War II veterans. A bronze plaque inside the museum lists former Ormond Beach residents who served in World War II, and you can also view the Korean War Memorial Sculpture by commissioned Florida artist Mark Chew. The gardens offer a peaceful place to remember and honor all those who served.
ADDRESS: 78 East Granada Boulevard, Ormond Beach
PHONE: (386) 676-3347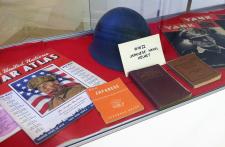 Veterans Museum & Education Center
Situated on South Beach Street in the heart of Daytona Beach, the Veterans Museum & Education Center pays tribute to the commitment, dedication, service and sacrifice of the men and women who have served in the United States Armed Forces. In the 1,600-square-foot museum, you'll find the names of local heroes, uniforms from all branches of the military, and an exhibit spotlighting a different veteran each month.
ADDRESS: 166 South Beach Street, Daytona Beach
PHONE: (386) 677-7416
DeLand Naval Air Station Museum
Formerly a World War II training base for dive-bomber pilots, the DeLand Naval Air Station Museum now operates with a slightly less risky purpose. The museum, which is registered on the National Register of Historic Places, houses an ever-growing collection of historical artifacts, veterans' mementos and military art. You can even witness incredible restoration projects such as those of the PTF-3 Fast Torpedo Boat, the TBF Avenger Torpedo Bomber and the M38A1 Jeep.
ADDRESS: 910 Biscayne Boulevard, DeLand
PHONE: (386) 738-4149
And, don't miss one of the nation's largest Memorial Day weekend celebrations — the Country 500 Great American Music Fest. Taking place at the iconic Daytona International Speedway, this mega music fest will feature some of the hottest names in country music today, such as Toby Keith, Chris Stapleton, Dierks Bentley, Sugarland, Billy Currington and so many more. Get your tickets to this three-day, three-night country music extravaganza today!