Mark your calendars, and start your engines: Daytona Bike Week is right around the corner. Are you ready to ride?
Just as the ice starts to melt farther north, thousands will embark on an annual pilgrimage toward sunnier skies, unforgettable rides and non-stop entertainment at the 77th Annual Daytona Bike Week. The world's largest motorcycle event will be celebrated March 9–18, 2018.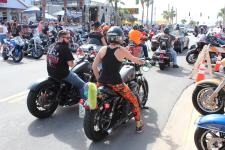 This year's 10-day event will crank the fun to full throttle, thanks to street festivals, live music, motorcycle races, bike shows, rallies, manufacturer showcases and more. Motorcyclists and enthusiasts from all over the globe will head to the "Birthplace of Speed" to enjoy the best spring ride — and you can be a part of the action! Don't miss your chance to celebrate friends, freedom and the feeling of salt air slapping your face — there's truly no other event like this one.
Cruising along historic Main Street and Beach Street and along the scenic A1A highway is a bucket list item for many attendees, and getting an up-close glimpse of "Old Florida" comes easily with a ride on the Ormond Scenic Loop. The Official Bike Week Calendar of Events is shaping up to be one for the books. From the Bike Week Annual Bike Blessing to the Bike Rodeo and Party, attendees will never find themselves bored. And this year, one lucky rider will win a custom Harley-Davison that has been bought and built by American Iron Magazine.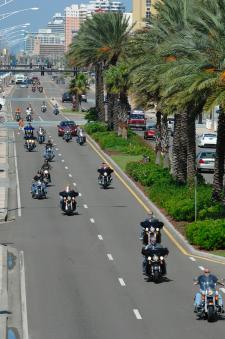 Beyond this year's rockin' line-up of events and showcases, Daytona Beach plays the perfect host to Bike Week attendees with daily specials at local restaurants, special entertainment events throughout the greater Daytona Beach area and ample space for all to absorb the Florida sunshine. When you want a break from the music and machines, kick back with Mother Nature and recharge for the next round of fun. With 23 miles of hard-packed white-sand beaches, Daytona Beach offers you plenty of elbow room to stretch out and fully soak in your getaway. And after 10 fun-filled days of festivals, concerts, cruises, showcases and more, you'll walk away with tan lines that fade and memories that never will.