Summer is right around the corner, and especially this year, many of us are ready to bring back the summer vacation. And Daytona Beach, of course, is brimming with all the things that make summer so much fun — including the cooling Atlantic Ocean waters, 23 miles of white-sand beaches, an array of family-friendly attractions and a million ways to have some Wide. Open. Fun.
When you're ready to start planning your summer getaway, consider these six reasons to put Daytona Beach at the top of your trip list:
Amazing deals on great places to stay: From oceanfront cottages to hotels, luxury resorts and everything in between, the Daytona Beach area offers a wide range of comfortable accommodations for you and your vacation crew. And with a long list of special rates and packages available, you could also score a great deal on your summer stay!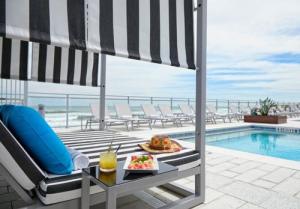 Abundant opportunities for outdoor fun: From bike rides right on the hard-packed white-sand beaches to jet skiing, paddling the waterways, hiking and biking the trails, surfing, fishing and more, the Daytona Beach area offers an array of ways to have a blast outdoors.
23 miles of beckoning beach: The Daytona Beach area is, of course, known worldwide for its beautiful beaches. And the list of ways to have fun on them is nearly as deep and wide as the area's sandy oceanfront stretches. From simply relaxing and soaking up the sun to taking a dip, learning how to catch a wave, playing beach games, biking seaside and even driving right on some parts of the beach, the options for making memories in the oceanfront sands here are limitless.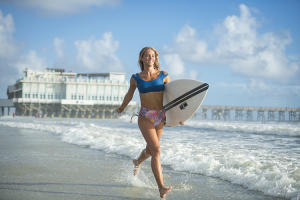 Wet and wild fun in the sun: While it may be the first to spring to mind, the beach isn't the only place in the Daytona Beach area to have some water-centered fun. Other water activities here include dropping a line, hitting the pool, surfing, exploring the area waters via paddle power, jet skiing, parasailing, learning about (and even meeting) the creatures of the deep and more.

Loads of family-friendly attractions: With an amazing collection of family-friendly attractions in the area, Daytona Beach visitors of all ages and interests can find their own fun here. Whether your vacation crew is in the mood for a stroll along the Boardwalk, some classic arcade games, a high-flying adventure, some hair-raising thrills, an educational exploration, splashes and slides at the waterpark, a spin around the track, some putter-powered fun or another of the many local family attractions, Daytona Beach can accommodate.

World-class dining … with a view: Whether you're in the mood for sweet treats in a sweet setting, cold drinks on the breezy oceanfront, fresh-caught seafood with a tasty view from the pier, American fare with some seaside flair or any other cuisine with a side of excellent views, the Daytona Beach area is well-equipped to serve up a feast of outdoor dining you'll remember for many meals to come. Come and see what we've got cooking — and enjoy it alfresco.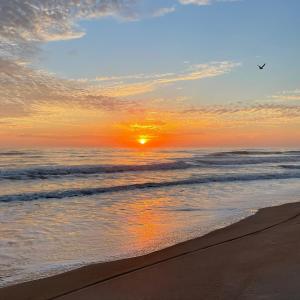 Ready to make your dreams of a summer vacation in Daytona Beach come true? Start planning your summer getaway today! We'll look forward to seeing you and your vacation crew soon for some Wide. Open. Fun. in the summer sun.