In Daytona Beach, there are just as many Christmas trees as palm trees this time of year — it's a festive, beach-y atmosphere that creates a one-of-a-kind holiday experience. Want to explore all the twinkle lights and jolly holiday happenings with your family? Follow this suggested itinerary for the picture-perfect wintertime outing in Daytona Beach.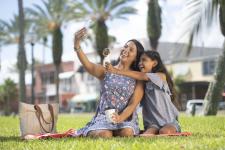 For an idyllic shopping experience, head to historic Beach Street. Stroll along the cheerfully decorated storefronts, either window-shopping or taking the opportunity to knock out your holiday gift list! You never know what stocking stuffers or surprise gifts you might stumble upon at the shops. Plus, make sure to stop at the annual crèche art exhibit for holiday charm that is unique to Daytona Beach.
Stop 2: WONDERLAND at ONE DAYTONA
Depending on what day you and your family are out and about, you can discover all kinds of holiday joy at ONE DAYTONA. At the dining and entertainment hub located directly across from Daytona International Speedway, various WONDERLAND events will deliver FREE family fun.
On Tuesday nights from 5-8 p.m., it's Family Night at WONDERLAND! Get a peek at reindeer and elves, sing along with holiday carolers, embark on an art experience at the art station, and more!
On Saturday nights, you won't want to miss Live Holiday Jazz from 6 to 9 p.m. And, on Sundays, get a taste of the North Pole right here in Daytona Beach — Sunday Snowdays happen from 3 to 7 p.m. There will be a dual-lane snow slide, an interactive DJ, a Polar Express train, stilt walkers, balloon art and so much more — you won't want to miss this!
By this point in your afternoon/evening outing, you'll likely have worked up an appetite! Fortunately, ONE DAYTONA has plenty of food offerings right on-site to satisfy all cravings. Create personalized burger creations at BUILT Custom Burgers, enjoy the vibe at Miami Grill and Salad Creations, or say cheers to a wonderful day at Rock Bottom Restaurant & Brewery. Better yet, top off the evening with a scoop of peppermint ice cream at Ben & Jerry's — in Daytona Beach, the mild temperatures permit a wintertime ice cream treat!
Stop 4: Magic of Lights®
Finally, finish off your family outing with a whimsical, memorable ride through the Magic of Lights® Holiday Display. Wind your way through a 1.5-mile-long LED and digital animation light display at the iconic Daytona International Speedway. Soak in the sights of the Snowflake Forest, relish the ride through the 200-foot-long Candy Cane Lane, and watch in awe at musical light displays. You'll even be able to watch Santa's team of reindeer cross in flight above you — and all from the cozy comfort of your own vehicle. It's the ideal way to cap off an evening filled with holiday cheer.
Whether grooving to live music or sipping on hot cocoa as a family, Daytona Beach offers endless ways to celebrate the season. Pack your brightest, best holiday sweater and start planning your trip to Daytona Beach today!
Enjoy a look at everything Daytona Beach has to offer! Download our free official visitors guide or sign up for our e-newsletter.